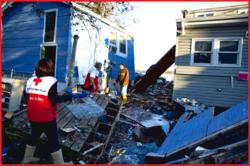 "With the help of our generous partners, the Red Cross can deliver relief to individuals and families in need," said Gail McGovern, president and CEO of the American Red Cross.
Southampton, NY (PRWEB) December 01, 2012
In their Detailing for Disaster Relief Campaign, Hamptons Mobile Auto Detailing and Car Wash will be donating to American Red Cross fifty percent (50%) of the total retail price of every detailing service.
This outreach endeavor is running from November, 2012 to February, 2013.
"In the face of any disaster or urgent situation, it is important that we all do what we can to help those in need, especially if you are fortunate enough to have survived unscathed," said Robert Brandt, Owner of Hamptons Mobile Detailing. "We must always be thankful for what we have, and in this situation with Hurricane Sandy, remind ourselves that we could have been the ones to be displaced, lose everything and need the relief that is provided by the American Red Cross and its wonderful volunteers."
Hamptons Mobile Detailing is helping people affected by disasters like floods, tornadoes and wildfires, as well as countless crises at home and around the world, by making a donation to support American Red Cross Disaster Relief.
"Every time we detail your vehicle, you are donating to the effort," said Brandt. "We encourage businesses and consumers to work together like this, where companies promote charitable causes and customers recognize the good they can do by supporting them."
About Hamptons Mobile Detailing and Car Wash and the American Red Cross
Hamptons Mobile Auto Detailing and Car Wash details vehicles year-round, on-site, at any location in East Hampton, Southampton, Westhampton, the North Fork, Riverhead and Manorville, New York. The American Red Cross prevents and alleviates human suffering in the face of emergencies by mobilizing the power of volunteers and the generosity of donors. Part of the world's largest volunteer network found in 187 countries, an average of 91 cents out of every dollar donated goes to fulfill the humanitarian mission of the American Red Cross.
For more information, photos or interviews with Hamptons Mobile Auto Detailing or American Red Cross representatives about the Detailing for Disaster Hurricane Sandy Relief Campaign, please contact Susan from SJPR at (631) 403-0418 or media(at)hamptonsmobiledetailing.com. Additional information can also be found at Detailing For Disaster Relief or Red Cross Media. The American Red Cross name and emblem are used with its permission, which in no way constitutes an endorsement, express or implied, of any product, service, company, opinion or political position. The American Red Cross logo is a registered trademark owned by the American Red Cross. For more information, please visit Redcross.org.
Hamptons Mobile Auto Detailing and Car Wash / 50 Hill Street #339, Southampton, NY 11968
631.353.1070 / detail(at)hamptonsmobiledetailing.com / http://www.hamptonsmobiledetailing.com