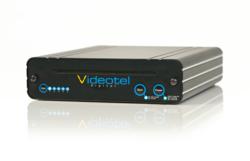 "At Videotel we inspire to continue to build our brand and the reliability it stands for. Our company believes that Hospitals and Healthcare Facilities deserve solutions that make smarter sense."
San Diego, CA (PRWEB) December 06, 2012
Videotel, Inc., located in Chula Vista, CA has earned itself 32 years of industry experience with industrial and commercial grade digital video products. The Vice President, Mark Schneider, publicly release the news of it's HD2600 Industrial DVD player's approvals for UL and AnnexQ compliance HD2600 Industrial DVD Player for use in Hospitals and Healthcare Facilities today.
The HD2600 will automatically power on, auto play and auto repeat. It's rugged design is best known for it's reliability for aggressive use and 24/7/365 continuous and looping play with a proven lifespan of 4 years.
The HD2600 is stated to already established itself in patient treatment rooms, pediatric wards, waiting rooms, maternity wards, common facility corridors, hospital cafe's & restaurants and emergency rooms.
Videotel's healthcare customers include Kaiser Permanente, Siemens Medical, CHOC Hospital, St. Joseph's Hospital, Mercy Regional Medical Center Associates and Healthworks Fitness Centers For Women.
Customers report the HD2600 is also preferred within hospitality, retail, government agencies, K-12 education, Universities, Museums, and Casinos,
For more information about Videotel's product offerings, please visit Videotel at http://www.industrial-dvd.com