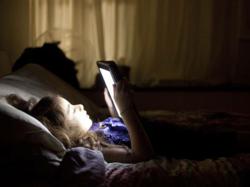 Sleep is essential to our physical and mental well-being.
FORT LEE, New Jersey (PRWEB) June 16, 2013
More Americans are climbing into bed each night with a laptop, tablet or smartphone at their side, whether to work, watch a movie, or make some phone calls. The May 24, 2013 blog from Marble Media LLC's Health Fill.com titled "Heading to Bed With a Laptop, Tablet or Smart Phone Can Rob You of Your Sleep" discusses a recently released study on the effects of electronic light from these devices on natural sleep patterns.
The report, published on May 23, 2013 in the journal "Nature" titled ""Perspective: Casting Light on Sleep Deficiency" reveals evidence that the bright light emitted from electronic devices interferes with the body's natural rhythm – including its sleep cycles. According to the study, lights from electronic devices have the ability to impact brain chemicals, disrupting the brain's sleep-promoting neurons as well as the body's nightly release of melatonin, a hormone that helps the brain stay asleep through the night.
Artificial light can activate these neurons which ordinarily remain inactive during the sleep cycle, keeping the brain awake artificially at night, and leading to long, drowsy days that have people reaching for caffeine and other stimulants in order to perform marginally well.
"Sleep is essential to our physical and mental well-being," says the study's author Charles A. Czeisler of the Division of Sleep Medicine, Harvard Medical School, and Division of Sleep Medicine, Department of Medicine, Brigham and Women's Hospital, in Boston, Massachusetts. "It is vital that we learn more about the impact of light consumption and other ways our 24/7 society affects sleep, circadian rhythms and health.
"We must then use this knowledge to develop behavioral and technical interventions to mitigate these ill effects."
Czeisler's study also finds that sleep patterns have changed to our detriment overt the past 30 years, and scientists are working to identify all the causes, since chronic sleep deprivation brings with it a slew of health, safety and productivity problems. Studies shows that 30 percent of working American adults get less than six hours of sleep per night. Roughly 50 years ago, it is estimated that less than 3 percent of Americans slept less than six hours per night. Sleep deprivation is also affecting children, Czeisler's study concludes, affecting their study habits, test scores and productivity levels.
For more information, visit the HealthFill.com website or email info(at)HealthFill(dot)com.
About Marble Media LLC:
Marble Media LLC is a creator of high-quality, content-rich blog sites that provide expansive coverage of relevant information to readers who make up a wide range of demographics. The Marble Media LLC team of expert writers covers a wide range of specialties including travel, food, health, fitness, social media, marriage, parenting, technology, weight loss, fashion and much more.
For more information on Marble Media LLC's offerings and advertising opportunities, visit the MarbleMediaLLC.com website, or email sales(at)marblemedia(dot)com.
###