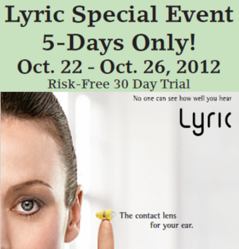 Lyric is the first and only 100% invisible extended-wear hearing device.
Sarasota, FL (PRWEB) October 13, 2012
HearCare Audiology Center, the leading provider of hearing aids in Sarasota FL announces a special five day promotion to try the invisible lyric hearing aid risk-free for 30 days. The Lyric promotion period begins Monday, October 22nd and ends Friday October 26, 2012. During the promotional period anyone considering a first hearing aid or thinking about upgrading from their current model can try the newest, smallest Lyric hearing aid for a full 30 days. Participants should register for the Sarasota Lyric promotion on our website to reserve a space.
The three audiologists of HearCare Audiology Center are recognized as Premier Elite Lyric Hearing Professionals. Dr. Mary Thorpe Au.D., Dr. William J Lopez II Au.D., and Dr. Nicole Rose Au.D. will all be available during the Lyric promotion to answer your questions and determine if you are a good candidate for Lyric.
Lyric® Hearing Aids are the first and only extended wear hearing devices that are 100% invisible. Lyric is comfortably placed in the ear canal by a Lyric trained hearing professional and can be worn 24 hours a day, seven days a week, for months at a time. Unlike many other hearing aids, Lyric is positioned completely inside the ear canal, so it uses your ear's natural anatomy to provide exceptional sound quality and alleviate hearing problems.
HearCare Audiology Center serves all the hearing care needs of patients in Sarasota and surrounding communities. They offer a full range of diagnostic and preventative services, including comprehensive diagnostic audiometric testing, tinnitus evaluation and management, a hearing aid battery club, custom hearing protection, swim plugs, and musician earplugs and hearing loss support groups.They are dedicated to keeping abreast of the latest improvements in technological advancements in the hearing industry and always offering the most current options.
The HearCare Audiology Center website at myhearcare.com has complete details about all of the services offered and the October Lyric promotion.
Contact:
HearCare Audiology Center
2800 Hillview Street
Sarasota, FL 34239
(941) 677-1075
http://myhearcare.com