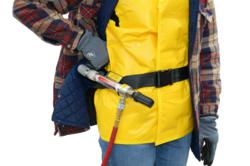 With projections for weather extremes, Vortec has introduced the Dual Action Personal Air Conditioner to enhance worker productivity and comfort in all seasons."
Cincinnati, OH (PRWEB) February 13, 2013
Workers can now easily fend off the effects of working in extreme temperatures resulting in increased productivity, thanks to ITW Vortec, a leading innovator in air technology. Vortec's new Dual Action Personal Air Conditioner(PAC) became available beginning on February 12, 2013.
The Dual Action PAC is coupled with a lightweight safety vest which delivers either cool or warm air to the wearer's torso and neck. By wearing the vest and PAC, industrial employees working in extreme temperatures can avoid the negative impact of low temperatures in winter as well as heat stress and fatigue in the summer. The increased comfort means no loss of worker productivity regardless of extreme temperatures. Since the Dual Action PAC offers both heating and cooling capabilities, it can be used in all seasons.
"Projections indicate that the next several years will see more unusually cold temperatures such as those affecting southern California this winter, as well as hot summers, similar to the heat waves of 2012. Given these weather challenges to industry, Vortec engineers have focused on creating an inexpensive, easily operated personal air conditioner that easily switches from cooling to heating," said Vortec Engineering Manager Steve Broerman. Broerman also noted that "In addition to its value in enhancing worker comfort, the Dual Action PAC is available at an extremely cost-effective price point to industries seeking to outfit large work teams."
Workers can adjust the Dual Action PAC to provide either heating or cooling. Thanks to vortex tube technology, the Dual Action PAC provides air temperatures ranging from 30 deg F to 120 deg F. The diffuse air vests are available in three sizes to accommodate a range of body types. The durable, flame retardant vest permits full range of motion with no airflow restrictions. The material does not absorb sweat or other contaminants. The vest can be worn under other protective clothing and features a collar that can be unfolded to deliver airflow to the neck and face.
Cincinnati-based Vortec is a division of the Fortune 150 firm Illinois Tool Works (ITW). Vortec has been recognized as the market leader and innovator of pneumatic products that use compressed air efficiently to solve cooling, cleaning, and conveying problems for over 50 years. In the early 1960s, Vortec was first company to develop technology for converting the vortex tube phenomenon into practical and effective, industrial cooling solutions.
For further information online:
Vortec Personal Air Conditioners: http://www.vortec.com/c-30-personal-air-conditioners.aspx