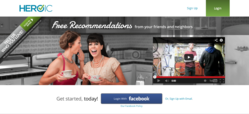 90% of consumers trust a recommendation from someone they know, more than any other source of information.
Minneapolis, MN (PRWEB) April 03, 2013
In a time of "big data" and complex algorithms, a recommendation from a friend is still the most trusted source of information. Heroic, a new start-up in the Twin Cities is a free place for friends and neighbors to share old-fashioned referrals of favorite local service providers, like painters, contractors, and even bike-mechanics.
In a city known for cycling enthusiasts, Dan Linstroth is not the only person in Minneapolis with an obsession for his bike's performance. "I know how I want it to ride and I'm pretty particular about who works on it," he says.
A tip from a friend led Linstroth to a little-known bike-mechanic in the Seward neighborhood of Minneapolis, a part of town known for being especially bike-friendly. Typically reluctant to leave his bike with a new mechanic, Linstroth felt comfortable handing his prized Trek road-bike over to Sam Reinert for maintenance this time around. What was different this time?
"My friend [and now business partner], Reed Robinson, recommended Sam to me and I know how well Reed takes care of his bike," Linstroth adds. "A recommendation from Reed carries a lot of weight."
Sam surpassed Linstroth's expectations and has now become his regular "bike-guy." Beyond that, both Linstroth regularly recommends Sam to his friends and neighbors.
"Sam is an absolute expert. He provides incredible customer service and charges a neighborly price," says Linstroth, "but you won't find him in the phonebook or on a ratings site."
This experience was the catalyst for the launch of Heroic, a modern take on word-of-mouth behavior.
Heroic is "everyone's personal referral network" says CEO Justin Barrett. "Overwhelmingly, people prefer a personal referral from someone they know and trust when hiring a service provider, particularly for the home. Heroic facilitates this natural behavior."
In April of 2012, the Heroic team assembled to pitch their idea at the Minnesota Cup, an annual competition that seeks to accelerate the best breakthrough ideas in Minnesota. A runner-up placement in the high-tech division motivated the four to bootstrap Heroic through launch. A group of local angel investors now backs the company.
Users connect to Heroic through their Facebook account or email address. As a result, members can easily find and follow their most trusted friends to start sharing recommendations. To share a recommendation, a user first inputs the name, contact information, and a short review of the provider that they would like to recommend. Currently, the community has hundreds of service providers in over 150 categories, carefully curated by the site's early adopters. A search to discover a new service professional will return personalized results based on your friend's recommendations.
Heroic is not a ratings site. The company's co-founders believe that ratings sites have become overcrowded and are no longer relevant.
"The validation of a trusted friend's recommendation is more powerful than ratings from strangers," says Justin Barrett, Heroic Co-Founder and CEO. "People only turn to ratings sites such as Angie's List or a Google search when they do not have a personal referral."
According to a Heroic survey of 225 homeowners, 85 percent chose a friend referral as their first choice of information when making a hiring decision. This preference ranks over Google, chosen by 60 percent, Angie's List at 17 percent, and the Yellow Pages at 5 percent.
Outside consumer research data supports this claim. Nielsen's Global Online Consumer Survey of 25,000 respondents reported that 90 percent of people surveyed noted that they trust recommendations from people they know while 70 percent trust consumer opinions posted online. The Heroic team believes the latter number will continue to decline as peer ratings sites struggle with transparency and sourcing relevant reviews.
Heroic also aims to simplify the lives of small service businesses. The platform incorporates tools for service businesses to foster referral customers, the lifeblood of most small businesses. Currently, there is no efficient way for service businesses to ask for a referral and track the results all in one place. Heroic gives businesses the ability to maximize the power of a customer testimonial in real-time. The platform is free for businesses as well, but the team plans to add a paid-premium upgrade in the future.
About Heroic
Heroic is a free place to share recommendations of favorite service providers. A personal referral from a friend or neighbor is the best way to hire a service professional. Users can store categorized lists of favorite businesses ready for re-hire, discover new professionals through personal recommendations, and share a favorite provider with a group of trusted friends. When ready to hire, a user can contact a service provider directly from the Heroic platform to inquire about booking. The company is currently available in the Minneapolis/Saint Paul market and features hundreds of service providers, all user verified through recommendations. The company was founded by Justin Barrett (CEO), Ethan Otterlei (CTO), Reed Robinson (CPO), and Dan Linstroth (CMO).
Media Contact:
Dan Linstroth
Dan(at)BeHeroic(dot)com
612-408-1828