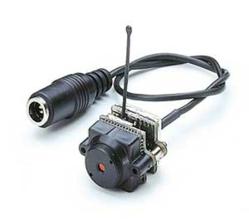 Businesses need to be aware of this new and growing threat and take a more proactive roll in preventing this type of activity from causing harm to their customers
(PRWEB) October 09, 2012
In recent months, there has been an epidemic of hidden spy cameras being found in areas where the public expects privacy. In August, a hidden camera was discovered in the fitting room of a Gap store in Southern California. There have also been recent discoveries at the Omni Hotel San Diego, where a hotel employee admitted to placing a hidden camera in a public restroom, and at a Sears in North Hollywood, where an employee allegedly hid up to 60 cameras in store dressing rooms over a three year period.
In spite of these examples, the hidden camera epidemic is still relatively unrecognized by businesses all over the country.
"It's really astonishing how frequently spy cameras are being found, I expect this trend to only worsen as spy cameras get cheaper and become more available to the public," says Steven Rowin, a privacy consultant at GP Privacy Solutions. "Businesses need to be aware of this growing threat and take a more proactive roll in preventing this type of activity from causing harm to their customers."
Spy cameras are becoming less expensive, smaller, easy to use, install and are available to any consumer. In light of this, Rowin says "most people are not aware of the threat spy cameras present and even with heightened awareness may not be able to recognize them. It requires special tools and training to properly inspect an area. That's why it's so important for businesses to implement a comprehensive plan to address the threat. The last thing a women or man wants is to unknowingly be filmed and have that show up on the Internet."
If a spy camera is found at a business, that business could be subject to a damaged reputation, lawsuits, unwanted media attention and the loss of customers that goes hand-in-hand with bad publicity.
GP Privacy Solutions is the first consulting firm dedicated to raising privacy awareness and offering solutions to help organizations prevent this new spying epidemic from striking at their place of business.
GP Privacy Solutions provides risk management solutions that help protect a company's reputation, their customer's privacy and may limit the damages resulting from a camera hidden in a business. Company technicians conduct on site inspections using highly sophisticated equipment in combination with on going staff training. This combined with 20 years of industry experience provides a one of a kind comprehensive solution for organizations at risk.
The company currently offers a number of proactive services:
-Physical Privacy Inspection Programs
-Privacy Training Programs
-Onsite Risk Assessments
Additionally, GP Privacy Solutions is able to tailor programs specific to the needs of any business. For more information on these programs, visit the GP Privacy Solutions website at http://www.GPprivacysolutions.com
Contact:
Steven Rowin
1-888-897-5585 Ext. 3
scrowin(at)globalproactive(dot)com