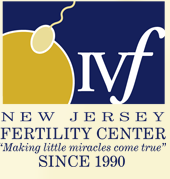 The procedures and treatments that couples are going through at this time can add anxiety to even the happiest relationship.
(PRWEB) December 13, 2012
The fertility experts at IVF New Jersey Fertility Center, with five locations in the Northeast, are offering support during the holiday season to couples who are trying to get pregnant. What is a joyous time of the year for most families can be very emotional for the 1 in 6 couples who are unable to achieve a pregnancy within the first 12 months of trying.
According to the Assisted Conception Taskforce, which released this statistic, there are millions of people who will be asking for the gift of a family this holiday season. As they shop and cook for friends and loved ones, they are dreaming of the day when they can enjoy the holidays with their brand new baby. For these couples, attending holiday gatherings can be a potential source of stress and depression.
"I understand how difficult it can be for couples undergoing fertility treatment to attend holiday gatherings, especially those that include the entire family. They certainly shouldn't feel guilty about leaving early or making the decision not to attend at all" says Jane Tervooren, IVF NJ Marketing Director. "The procedures and treatments that couples are going through at this time can add anxiety to even the happiest relationship. Hopefully these suggestions will help alleviate the additional emotional turmoil they may experience during the holiday season."
In order to successfully deal with the emotions these couples may face this month,IVF New Jersey is providing practical tips for coping with the holidays.
1. Plan ahead. Have a private signal that indicates it's time to leave the party or gathering. Having a mutual understanding that there might be a time limit on chatting with friends and family can (delete) be a source of relief.
2. Have a good cry. Holding in the strain of frustration can do more harm than good. If you feel like crying, find a quiet place where no one will interfere if you want to be alone.
3. Don't take on too much. You may need to delegate an errand or two, rather than do it all yourself. Ask for help.
4. Take a walk. If you are in good health and the weather allows, exercise can burn off anxiety and also allow for couples or alone time, which can (delete) be hard to achieve this time of year.
5. Treat yourself. Give yourself permission to pamper yourself during fertility treatment. Schedule a massage or facial, or buy yourself something special and don't feel guilty!
6. Talk with someone. It might help to talk with someone who is also going through fertility treatment so you can share the mixed emotions that the holiday season can bring.
About IVF New Jersey Fertility Center:
IVF New Jersey Fertility Center was founded in 1990 with the goal of creating a fertility practice that combines the best of big-city medicine with the personalized care of a private setting. For the past 22 years, IVF NJ has helped bring thousands of babies to couples in the metropolitan region and throughout the world. IVF NJ's unique cutting-edge facilities allow the physicians to perform all standard fertility diagnostic and treatment procedures under one roof, all in a comfortable, private, non-hospital setting. IVF NJ is one of the largest fertility centers in the nation with some of the highest success rates in the U.S. according to the Center for Disease Control (CDC). For more information visit http://www.ivfnj.com.