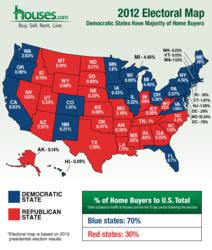 Visitors to Houses.com™ were either trying to find a home or at least browsing the market in states deemed as 'blue states' after the President was re-elected.
Miami, FL (PRWEB) December 06, 2012
Leading real estate portal, Houses.com, today released an analysis suggesting a peaked interest in homes for sale amongst the "blue", or Obama-winning states, versus the red states following the 2012 presidential election. Since the election, traffic to the site has been greater in such democratic states as depicted in the infographic, created to further illustrate this trend.
The analysis is based on the percentage of homebuyer site traffic to the U.S. total, comparing the 10-day period leading up to the election with the 10 days after Election Day. Results indicate that blue states including New York, New Jersey, Maryland, Illinois and California among others, could see significantly more home sales than red states in the foreseeable future.
Nearly 70% of traffic to Houses.com from November 7th thru November 20th came from states identified as "blue", that is those states where people voted to re-elect President Obama. This left only 30% of traffic coming from red states, or Mitt Romney's supporting regions. There was a 12% percent increase in site traffic collectively by visitors in blue states when compared to 10 days prior. Even more astounding was the 20% decline in visits from red states.
"Looking at this traffic trend clearly shows that visitors to our site were either trying to find a home or at least browsing the market in states in the northeast, west, and others deemed as 'blue states' after the President was re-elected, " said Richard Swerdlow, founder and Chief Executive Officer of eReal Estate Holdings, LLC – parent company of Houses.com.
"For that reason, it is reasonable to expect increased home buying in blue states because that's where our visitors are coming from," added Swerdlow. "Given that premise, realtors across the United States can take note and be prepared to help prospects."
Some states recorded an especially high percentage increase in visitor traffic 10 days after the election such as Maryland, New York and New Jersey – all traditionally blue states. Previous search analyses on Houses.com have shown that a high number of visits in a city or state is strongly correlated with a boost in homebuying activity in those sought-after areas. The site plans to keep a close eye on searches and inquiries for homes in blue states, as they're predicted to see heightened real estate activity in the coming months.
More housing market data can be found at Houses.com, a consumer resource for housing inventory, or on HUD.gov, a government source for national housing market conditions released by the U.S. Department of Housing and Urban Development.
For more on this story or to access the infograph, click here: http://www.houses.com/Learn/HousingNews/Houses.com-Trend-Indicates-More-Buyers-Flocking-to-Democratic-States.
About eReal Estate Holdings
eReal Estate Holdings LLC owns and / or operates the category-defining portals Condo.com, Houses.com, Property.com and Location.com. These real estate portals are the world's largest online marketplaces for real estate with more than 30 million properties for sale, rent and vacation in the United States and 70-plus countries around the world. The sites receive more than 1.5 million visitors per month, and cost-effectively deliver exposure and qualified leads to builders, real estate professionals and homeowners. In addition to property for sale and properties for rent, site visitors have access to a wide variety of real estate-related products and services, including mortgages, credit repair, home improvement, moving and more. Location.com was launched in beta in November 2012 in order to capitalize on the rapid growth of location-based advertising and search.
The privately held eReal Estate Holdings LLC is headquartered in Miami, Florida. For more information, please visit http://www.erealestateholdings.com.