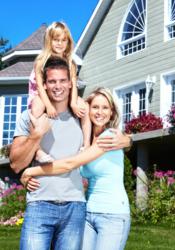 Obtain home loans and move forward in the pursuit of the American Dream.
Birmingham, AL (PRWEB) April 02, 2013
If you have ever been to a job fair you know how it works. Hundreds of employers gather at one place and conduct one-on-one interviews with applicants. The ambience facilitates quick decision-making and helps both parties expedite the overall process.
Loans.net decided to apply the same concept to home loans, and has hosted an online fest where thousands of lenders gather and work collectively to help applicants interested in applying for a home loan. The only difference is that this networking will take place online at Loans.net. Since hundreds of lenders will work together, it is more than likely that individuals with credit issues and previous rejections will find help as well. The fest is all about choices -- lots of choices for both parties.
Purchasing a new home can be a very time-consuming process. From negotiating the purchase price to getting the home inspected, a lot needs to be accomplished before the final deal can go through. Of all the formalities involved in the purchase process, applying for home loans is perhaps the most time cumbersome and challenging step.
Loans.net cuts through several layers of red tape and helps buyers connect with home loan lenders in a snap. With just one quick form and a few questions, purchasers can get a response from hundreds of lenders in as little as thirty seconds. After having facilitated hundreds of millions of dollars in home loans, Loans.net has perfected the process during the past fifteen years and has developed a system to accommodate a wide range of individuals and businesses.
This morning, the company announced an online fest wherein buyers can connect with home loan lenders in a snap. The interaction takes place online and the system allows borrowers to ask questions, request quotes, negotiate rates, and accomplish a lot more in an extremely efficient and cost-effective manner.
The company released its official press statement to the media this morning:
"We have been helping home buyers connect with lenders for over fifteen years. During this time, we have helped thousands of customers obtain home loans and move forward in the pursuit of the American Dream. We have initiated the home loan fest to help both parties interact freely, exchange information, ask questions, and get a lot more accomplished in a comfortable and safe environment. Buyers benefit from the ability to connect with multiple lenders, while loan companies find new business opportunities at a fraction of traditional marketing costs. Everyone wins."
Loans.net focuses on facilitating the process of obtaining home loans for first time and seasoned home buyers. A short home loan application on the site asks basic questions and based on the borrower's responses, facilitates the process of connecting lenders with buyers.
To request a quote from a pre-screened lender, please visit http://www.loans.net/ today.