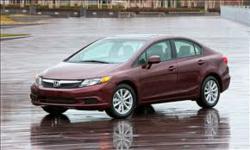 "The new 2013 Honda Civic is a completely different car but the 2012 Honda Civic is still a fantastic vehicle and we are going to incent customers by offering extraordinary deals to make room for the new models," said Dion Glass, General Sale Manager
Elmhurst, IL (PRWEB) December 09, 2012
The redesigned 2013 Honda Civic was just released at this Los Angeles Auto Show and getting fantastic reviews. In order to clear space for these incoming vehicles Honda on Grand is slashing prices on their 2012 Honda Civics.
The new 2013 Honda Civic was upgraded and released to address the growing demand for compact vehicles with great gas mileage. The company is seeking to increase their market leadership with the 2013 Civic that provides speed, affordability and low carbon dioxide emissions.
"The new 2013 Honda Civic is a completely different car but the 2012 Honda Civic is still a fantastic vehicle and we are going to incent customers by offering extraordinary deals to make room for the new models," said Dion Glass, General Sale Manager for Honda on Grand. "Both cars are very high quality and the 2012 has been a really great selling car."
In order to clear space for these incoming vehicles, for the next 3 days Honda on Grand are offering the 2012 Civic LX Automatics for $14,990 plus taxes, titles and fees.
"The 2012 Civic is a great selling car with dramatic sales increases over 2011," continued Glass. "The Civic has been one of the best selling vehicles for decades. We just have new models coming in and we will great deals for customers who want to save lots of money."
Honda on Grand has a great selection of Best Selling 2012 Honda Civic.
About Honda on Grand
We are proud to serve Honda guests from throughout Chicagoland and Illinois. Located at 300 W Grand Ave in Elmhurst IL, our commitment to perfection is exceeded only by our commitment to offer our customers the highest levels of quest satisfaction. At Honda on Grand we offer new Honda cars, trucks and SUVs, along with used inventory from other top manufacturers. Our customers can come in and take advantage of our knowledgeable Honda repair technicians and a fully-stocked inventory of Honda parts.
For additional information please call 866-611-1914 or visit http://www.hondaongrand.com