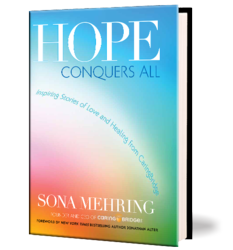 Eagan, MN (PRWEB) May 08, 2013
The founder of the world's largest online support network, CaringBridge, reveals the inspiration for the social tool was born from grief. In her new book Hope Conquers All (Center Street/Hachette Book Group, August 2013), Sona Mehring reveals the death of a newborn was the catalyst for the birth of her organization, CaringBridge, which enables people to share information online during any kind of health event, thus streamlining the efforts of communicating to multiple family members and friends.
"When that precious little girl lost her battle for life, I knew I couldn't let the concept die along with Brighid," writes Mehring. "To my surprise, dozens of people approached me to express their gratitude for keeping them informed and giving them the ability to directly support [parents] JoAnn and Darrin. I left feeling even more inspired, knowing that rolling out CaringBridge was no longer a choice but a calling."
Begun seven years before Facebook, CaringBridge's success proved the Internet could be a helpful tool for building online social communities. Now used every day to bring together more than half a million people, CaringBridge simplifies the sharing of information about a person's health issue and amplifies the support and encouraging messages received with a user-friendly interface.
In addition to sharing information and inspiration, CaringBridge is also credited with improving health. Tom Ferguson, MD and founder of e-patients.net, believes, "An individual's social network . . . has long been recognized as an important factor in maintaining health and managing disease more effectively."
Hope Conquers All is an inspirational collection of stories from CaringBridge users. With health challenges ranging from children with cancer to adults requiring life-saving transplants and victims of horrible accidents, the first-person accounts reflect the importance of CaringBridge in their personal journeys. In addition, the hope that the service provides in the form of the support of friends and loved ones is a unifying message, one that Mehring says has deepened her own faith. "Not a day goes by that I don't feel blessed to know that the work I do brings comfort, love, and strength to others in their hour of need. I have always enjoyed working with people and technology, but the opportunity to work at something that so powerfully and positively impacts people's lives takes me from 'enjoyment' to 'joyous.'"
"I have become almost evangelical about spreading word of CaringBridge to anyone I know who is ailing or might have someone in the family who needs this lifeline…CaringBridge isn't just about staying in touch; it's about staying in touch for a specific humane purpose." —Jonathan Altar, from the foreword