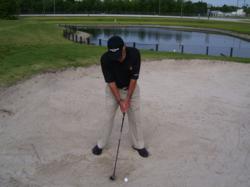 Black Magic Wedge's Hottest New Golf Wedge
Nationwide (PRWEB) May 03, 2013
In the wake of some recent golf wedge reviews, the Black Magic golf wedge rates high on the list for many pros and amateurs from across the country.
The golf wedges of Black Magic Wedge incorporate a "no hosel" design, along with a wide sole, that make their hybrid clubs perform exceptionally well from all types of lies. Many players have stated in their golf wedge reviews that this may be the hottest golf wedge for the short game that has ever been invented.
Blade Runner Golf is proud of their line of new hybrid wedges and their ability to claim the hottest golf wedge. They know that the player will expect a wedge that gets the ball up real fast from all types of lies. This club will not get stuck in the sand, go too steep, or cause the dreaded worry of a shank shot swinging too hard. Players want golf wedges with consistent controls for difficult shots. Black Magic's golf wedges meet and exceed these demands.
Many aspects of the game of golf require a considerable degree of precision. Golf players tend to put a good deal of concern on the long drive. There is no doubt that the long drive is a vital part of the golf game. One can be rest assured that the utilization of the hottest golf wedge on the market, for these necessary precision short shots, will keep them in the game.
Blade Runner Golf invites anyone who is interested in taking the hottest golf wedge challenge to try one of the Black Magic Wedges on the course. One will find that their clubs feel truly comfortable during the full golf swing.
"When someone talks about innovation and club features, the full line of Black Magic products consistently ranks amongst the highest, for exceeding and surpassing players expectations. They routinely become the clubs of choice because they actually help to improve a player's game significantly, and that's what people truly want out of their clubs."
About
Blade Runner Golf, Inc. Is a company that is very serious about the notion that a golfer's short game can make all the difference in his or her final score—and that players can take their short game to the next level if they only have the right club from which to choose. Black Magic's hybrid golf wedges Conform to USGA Rules, and also help golf enthusiasts find new precision and power as they make their way onto the putting green. Black Magic Wedge can be reached on the web, http://www.blackmagicwedge.com.
Contact:
Black Magic Wedge
2519 McMullen Booth Rd
Suite 510-129
Clearwater, FL 33761
Toll Free Phone: 877-799-6099
sales(at)blackmagicwedge(dot)com