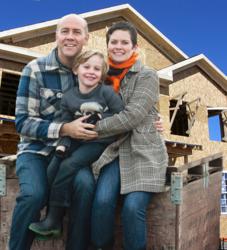 Along with
the renewed sense of optimism toward housing among all buyer groups, we are also seeing that
family can have a significant influence on the decisions associated with buying a new home. ~ Meyer
Minneapolis, Minnesota (PRWEB) December 29, 2012
The PulteGroup Home Index (PGHI) findings show that homebuyers prioritize family relationships. PGHI 2012 quarterly surveys comprised of home renters, homeowners, and potential homebuyers across the United States determine intentions, motivators and deterrents involved in the home buying process, sentiment toward the housing market, and housing trends and preferences.
Destiny Homes owner Butch Sprenger says, "We are seeing homeowners placing a greater priority on family relationships and quality time at home as they make home renovation choices. Where to build a home, what type of home to build, and trends in homeowners layout choices point to a feeling that building a home is all about family. Economic pressures have only heightened a family focus on home".
In 2012 PGHI were carried out four homebuyer surveys and focused on current hot topics from retirement to first‐time homebuyers. 2012 survey results revealed several homebuyer trends, showing an increase in consumer confidence in the economy and the housing market:

61 percent of Baby Boomers still in the work force plan to retire in less than 10 years and are on schedule with retirement plans. 73 percent report being financially prepared to retire in 10 years or less.
61 percent of today's home renters hope to buy a home within the next two years.
Top reasons why renter interest in buying a home is up: They want the American dream of homeownership, calling themselves homeowners (49 percent,) and they plan to build home equity for a good financial investment (44 percent).
Renters are buying homes with more space for family/kids (36 percent) while current homeowners ages 18 – 34 want a larger home for their growing families (68 percent).
With the goal of recording the pulse on consumer trends and understanding what's important to homebuyers and how they truly live in and enjoy their homes, PGHI's survey work is highly regarded. "Across the board we are seeing more confidence in the market in general. Also, more families are making a deliberate choice to build a better bond among the generations and live closer to family and friends," said Deborah Wahl Meyer, senior vice president and chief marketing officer of PulteGroup.
Not surprising to Sprenger, who believes building a new home is all about family, PGHI's survey confirms that is a growing homebuyers sentiment. The surveys summarizes the significance of family connectedness across all generations, and key priority changes in family dynamics that often determine homeowner choices in their next new home plans.
Confirming finding in the survey include:
1) A Dream Home Is Secondary To Family Relationships - Homebuyers do not want to sacrifice family when buying a new home. Only 21 percent of homeowners said moving away from their family would be a trade‐off to get their "dream" home.
2) Home Size Accommodates Additional Family - 84 percent of homeowners plan for their next home to be the same size or larger.
3) Family Bonding Is Top Priority - Family bonding was cited as the top reason for having adult children move back home (46 percent) and for aging parents (48 percent) to move in.
4) Mufti-Generational Homes - Twice as many households as today expect to eventually share their home with their adult children or aging parents. 31 percent anticipate at least one adult child moving back home; and 32 percent anticipate an aging parent living with them.
5) Baby Boomers Want To Stay In The Same State - About 62 percent of Baby Boomers want their home in retirement to be within the same state they currently live. This represents a 20 percent increase compared with two years prior.
6) Baby Boomers Want To Live Close To Family - 32 percent of Baby Boomers want to live within 20 miles of their children/grandchildren upon retirement.
Realtor Magazine's new article titled "13 Top Home Trends for 2013" highlights the new home design trend for a more homey look and feel. "People are putting family first when making plans for their next home renovation project or newly constructed home. They want to enjoy the time their children are at home, build a welcoming place to live, and have a quality home life the family will always want to come back to," says Sprenger.
Contact Destiny Homes, a Minneapolis home builder, to build a home or begin a major home renovation project that will center around family and what it means to enjoy being at home. Call Butch at 952-934-5706 to schedule a time to meet and get answers that help homeowners make well informed decisions.