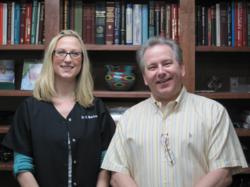 Houston, Texas (PRWEB) April 08, 2013
Greenspoint Dental, a Houston dental office, is offering its patients a new special for teeth whitening: at-home bleaching trays for only $55.
The special includes a dental exam, two bleaching trays for the top and bottom teeth and two tubes of whitening gel. This package usually costs patients $125.
One of the most effective teeth whitening treatments on the market, the bleaching trays offered by Greenspoint Dental are custom-fitted to patients' teeth in order to ensure a thorough whitening process designed specifically for the patient. Because the trays are fitted to the patients' teeth, they offer better whitening results than whitening strips or trays purchased at the grocery store or pharmacy.
Patients who take advantage of the special will also be able to benefit from personalized instruction on when to wear and how to use the trays from Dr. Louis Bosse, one of Houston's premier cosmetic dentists.
"This special is perfect for patients who have a big event coming up and want to make a great impression with beautifully white teeth," Dr. Bosse said. "Each bleaching tray from this special will be designed to fit the patient's mouth perfectly, so they can feel confident that they're getting a thorough whitening treatment."
According to Greenspoint Dental's staff, the special is available for a limited time only and spots are filling up quickly. Patients in need of other dental work may not qualify for this treatment. Interested patients should call the office at 281-823-9987 or request an appointment here.
About Greenspoint Dental
Greenspoint Dental is a family dental practice that has been operating in Houston for the last 15 years. Dr. Louis Bosse, the lead dentist at Greenspoint Dental, provides general, cosmetic and restorative dentistry to his patients. His associate, Dr. Kari Blankenship, provides dentistry services to patients of all ages, but particularly enjoys working with younger patients.
###