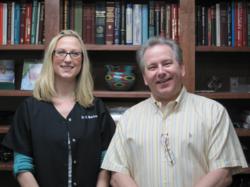 HOUSTON, TEXAS (PRWEB) April 29, 2013
Greenspoint Dental is offering porcelain dental veneers for less than half of their original price for a limited time.
Patients can choose from three dental veneer options: four veneers for only $1,999, a $4,100 value, six dental veneers for $2,999, a $6,150 value, or eight porcelain veneers for $3,999, an $8,200 value.
All three options come with the talent and expertise of Dr. Louis Bosse, one of the premier Houston cosmetic dentists, to apply the dental veneers using his 20 years of experience in dentistry.
"I'm so excited about this special," Dr. Bosse said. "We've seen, time and time again, that dental veneers change our patients' lives for the better. After the procedure, our patients are more confident, more outgoing, willing to smile more. It's excellent. I hope we get to help so many people in the Houston area with this offer."
Dental veneers can be applied in as little as two appointments and are often used to hide tooth discoloration, gaps, chips and breaks, as well as to improve the size or shape of teeth. To learn more about Greenspoint Dental's porcelain veneers special, click here.
According to the staff at Greenspoint Dental, appointment times for the special offer are limited and filling quickly, so interested patients should call the office at 281-823-9987 as soon as possible to book an appointment.
About Greenspoint Dental
Greenspoint Dental is a family dental practice that has been operating in Houston for the last 15 years. Dr. Louis Bosse, the lead dentist at Greenspoint Dental, provides general, cosmetic and restorative dentistry to his patients. His associate, Dr. Kari Blankenship, provides dentistry services to patients of all ages, but particularly enjoys working with younger patients.
###