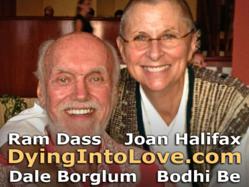 "Now is the time for us all to consider what we're missing as a culture because of our disconnection from our own mortality." Ram Dass "Lack of reconciliation with our mortality has given rise to global suffering, consumerism, stupidity..." Joan Halifax
Makawao, Hawaii (PRWEB) June 11, 2012
Death and Dying is the subject of Dying Into Love a new 18-hour on-line video workshop series featuring four authorities: Dr. Richard Alpert aka Ram Dass, Joan Halifax Roshi, Dr. Dale Borglum and Bodhi Be.
The 42 videos, running 10 to 40 minutes each, now available for streaming or download at http://www.dyingintolove.com are dedicated to broadening the discussion around dying, providing information, both clinical and esoteric, so that all aspects of death can be reclaimed as sacred components of modern everyday life.
Some of the participants in the workshops are professional caregivers, some are dying themselves, and some are simply people who wish to consider the issues of death as a way of enhancing their own consciousness and connect more to their spirituality.
"Our lack of reconciliation with the truth of our mortality I feel has given rise to global suffering, consumerism, stupidity…" - Joan Halifax Roshi
Historically, almost all human cultures wove symbolic right-of-passage death rituals into the fabric of everyday life, enjoying the balance, appreciation and connection with their ancestors and children's children that such practices create. But, in today's disconnected consumer culture, life is seen as an entitlement and death has no valued role – our ancestors are forgotten and both the earth and our children's future have been exploited and mortgaged away.
As the baby boomers age more and more of us are confronted with death issues and hardly anyone is prepared. The result is fear, grief, separation and needless suffering.
"Now is the time for us all to consider what we're missing as a culture because of our disconnection from our own mortality." - Ram Dass
Ram Dass, before he changed his name from Dr. Richard Alpert, earned a PhD in Psychology from Stamford, had a teaching position at Harvard and research grants from both Stamford and Yale. He became interested in death through work he did at Harvard with Dr. Timothy Leary and author Aldous Huxley, taking large doses of psychedelics and then reading the Tibetan Book of the Dead.
"My first journey to India was, in part, a result of an interest I had in better understanding death." Says Ram Dass. "Sitting at the funeral ghats in Benares watching the families watch the bodies of their loved ones burn showed me how in Eastern culture death is part of life. Looking back to the West I could see that death was hidden from the consciousness of the culture."
Ram Dass became a scholar of Hindu tradition and his 1971 book "Remember: Be Here Now" opened the West to an awareness of the East as never before, prompting countless young people to embark on their own Eastern spiritual journeys and setting the stage for today's popularity of such best selling authors as Eckhart Tolle and Deepak Chopra, as well as the continually growing popularity of yoga, meditation and chanting.
"Since returning from India in late 60's I've been sitting by deathbeds and through my spiritual life I have confronted my own beliefs around death." says Ram Dass.
"We have great sex education in our country but we don't have death education." says Joan Halifax Roshi, "Ram Dass is the pioneer in this work, of really addressing not just the spiritual issues of dying, as though it's a separate category, but to realize that all the preparations, including durable power of attorney and so on, its all about spirituality."
Joan Halifax Roshi is a Buddhist teacher, Zen priest, and anthropologist. She has worked in the area of death and dying for over thirty years and is Director of the Project on Being with Dying. Her work and practice for more than three decades has focused on engaged Buddhism. She received the Lamp Transmission from Thich Nhat Hanh, and was given Inka by Roshi Bernie Glassman.
Dale Borglum has a BS from UC Berkeley and a PhD from Stanford University. He has intensively immersed himself in the practices of devotion, meditation, and contemplative prayer for over forty years, studying with many of the greatest masters of the last century, including Neem Karoli Baba, Suzuki Roshi, and HH the Dalai Lama. Dale is the founder and Executive Director of The Living/Dying Project. He is a pioneer in the conscious dying movement and has worked directly with thousands of people with life-threatening illness and their families for over 30 years.
Bodhi Be is both an interfaith minister and a Sheikh in the Sufi Ruhaniat International. He is a death coach and a Hospice volunteer. Bodhi facilitates funeral ceremonies, is a Funeral Director, a community leader and hand-builds inexpensive caskets. Bodhi is the founder of DOORWAY INTO LIGHT and The DEATH Store which offer workshops on spiritual care giving and provide tools for approaching death. Doorway Into Light has been engaged in advocacy and educational programs on Maui, with families and professionals in the field, as well as actively helping dying people, their families and their care-givers. Doorway Into Light runs a monthly death and dying support group.
The Dying Into Love video project and its unique web distribution platform was produced by Sam Small for Small Wonder Video Services.
A lot of people don't want to talk about death, to them its something dark and sinister, the Grim Reaper," says Small, "but by keeping death out of the general discussion, even in favor of focusing "on the positive" we feed the mistaken notion that death is something bad. We need to bring death back into everyday life as something sacred and well considered. Silence around death is deafening us to our humanity, loss of compassion and empathy is the unfortunate result for society."
SAM SMALL, SMALL WONDER VIDEO SERVICES (973) 271-0788 (808) 572-5603
dyingintolove(at)smallwondervideoservices(dot)com
Pictures & Details: http://www.dyingintolove,com