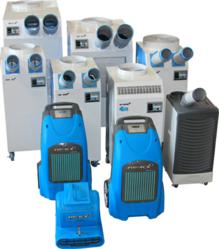 Waco, TX (PRWEB) May 01, 2013
Portable Rental Solutions, a leading provider of spot cooler rentals, has announced the opening of its new Phoenix, Arizona office. The new office marks the company's sixth rental location, and its first office outside of Texas.
The company's new office is located at 2328 E. Van Buren St., Suite 121, Phoenix, AZ and serves customers throughout the state of Arizona.
"We are excited about expanding to Arizona," says Shane McCourt, regional sales manager for Portable Rental Solutions. "We think it's a good market for us."
McCourt's company rents portable air conditioning units, evaporative "swamp coolers," dehumidifiers and HEPA air scrubbers, as well as a range of portable heating equipment to businesses that have a short-term or emergency need for additional HVAC equipment.
Commonly called "spot coolers," the company's self-contained air conditioning units roll into place on casters and feature simple installation, allowing them to direct cold air to a hot spot that needs cooling. Since the systems direct cold air to the place where it is needed the most, they can be a cost-effective cooling solution, according to McCourt.
McCourt says that his systems are often used to cool computer server rooms, help hospitals control the temperature of delicate medical supplies, or to help warehouses, offices and schools control temperature. The company rents spot coolers ranging from relative small systems that plug into a standard wall socket and have an 11,000 BTU cooling capacity, to industrial systems with an 145,000 BTU cooling capacity.
Portable Rental Solutions rents HVAC systems made by Airrex and evaporative coolers made by Port-A-Cool. McCourt says these systems have some of the highest reliability ratings in the industry, with less than 1% warranty claims.
"That's important, because in many cases our systems are being used in an emergency," says McCourt. "You can't have your backup system fail."
About Portable Rental Solutions
Portable Rental Solutions specializes in renting Airrex portable air conditioning, spot coolers, heating equipment, dehumidifiers, HEPA Carts, and HEPA filtration units to businesses and government agencies. With less than 1% warranty claims, Airrex systems are some of the most reliable products in the industry. The company's products are ETL listed for safety and are environmentally friendly.
Portable Rental Solutions can be reached 24 hours a day, 365 days a year.
For more information, call Portable Rental Solutions at (800) 699-8998 or visit their web site at http://www.portablerentalsolutions.com.