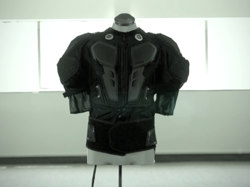 We developed ARAIG so gamers can finally be a driver in the gaming industry and be part of creating the most immersive gaming experience possible.
Port Hope (Ontario, Canada) (PRWEB) June 20, 2013
Michael Stanfield (father) and Brodie Stanfield (son) are in the development process of a product they call ARAIG, which stands for 'As Real As It Gets.' ARAIG is a multi-sensory simulation device, a suit worn by the player that totally immerses the gamer into the reality of their gaming world. ARAIG utilizes surround sound and haptic feedback to truly immerse gamers in their gaming experience. The immersive qualities of this product provides players with greater in game autonomy and competence via greater immersive sensation and virtual world awareness. ARAIG stimulates the senses and provides physics to the body while allowing total mobility for the user. This stimulation leads to greater enjoyment of playing video games.
Currently ARAIG is on the crowdfunding platform Kickstarter (http://kck.st/1377McB) and has received significant attention with over 170,000 views. In addition, ARAIG is featured on top tech websites around the world and currently has raised $95,000 towards its goal on Kickstarter. And all of this has happened in 20 days.
If you are a gamer who desires that illusive total immersive experience then ARAIG is a product you must check out. "Total Immersion is achieved through the simulation of sensory perception through the stimulation of the senses. This means that only when the majority of the body's senses are involved, the nature of physics (force on the body) is applied, and this relationship is based on user - media interaction, will gamers then be drawn into this realm of Total Immersion. It is in this synthesis that ARAIG enhances this desired sense of presence or immersion that gamers want in their game play experiences;" says Michael Stanfield, Vice President and Cofounder.
To bring the next level of gaming to the industry a community has been created to foster discussion around the product. In 20 days ARAIG has accumulated a significant number of followers on Kickstarter, Facebook and twitter. The purpose? "We want the community involved in the final design of this product. We want this to be a community driven product;" says Brodie, President and Cofounder. As a community driven product, the community members get to be part of the development process and guide ARAIG's current and future design so that ARAIG is exactly what the community wants.
To join in the discussion now and become part of the ARAIG community go to Kickstarter (http://kck.st/1377McB), Facebook (https://www.facebook.com/ARAIGAsRealAsItGets) and/or Twitter (https://twitter.com/ARAIG_). As ARAIG continues forward the ARAIG Team will let the community know when their website is completed in August to allow the community to truly become involved in the development process. Furthermore, if you are unable to purchase your ARAIG now off Kickstarter you will still have the opportunity to purchase it through ARAIG's website either in full or via their layaway program.
So let others know about ARAIG by spreading the word so they can get involved in the community as well. Finally get the chance to have a voice in the future of gaming and be a driver in the gaming industry!