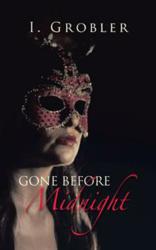 Throughout the story a fine balance is being handled between the danger and desirable, the vulnerable and the ruthless, making the threat real, and keeping things interesting to the appeal and fascination of the readers
STANDERTON, South Africa (PRWEB) May 13, 2013
Carving a new path from such hits as "Twilight" and "50 Shades of Grey," "Gone Before Midnight" (published by AuthorHouse), by I. Grobler, brings readers into a new world – a world full of romance, love and ominous demons.
Disillusioned and cynical about womankind, Armant Snow travels to the city of Victoria to investigate the presence of ominous demons. Almost instantly, his fate is thrust into that of a girl who he meets one night at a club. The girl, Claire Forster, is followed by demons wherever she goes. Fearing that the demons will take her, Armant decides to take her instead, since he sees no other way to continue his investigation.
As readers follow Armant and Claire through the dark, murderous streets of Victoria, they begin to see a love story erupt from simple beginnings. With everything being drawn to her, will Armant be able to stay focused long enough to find the source of the demons, or will evil take over the city forever?
An excerpt from "Gone Before Midnight":
I didn't try to block the second blow. The force of the blow, made me stumble, and I stopped my fall with my hands. Rick was on a roll, and was lifting his hand for a third blow, when someone else came in between: Armant. He caught Rick's hand in mid air, surprise registering on Rick's face. Armant's hand covered the whole of Rick's fist. I could hear the bones breaking as Armant crushed Rick's fist in his hand. Rick sank to his knees, screaming profanities. He turned around and gave me a look that made me cower into the corner. At that moment Armant scared me even more than Rick ever did. But something else was wrong...
"'Gone Before Midnight' contains all the elements of an unconventional and tortured romantic entanglement, and for the natural popularity of this story's genre, readers can identify with the characters and not get enough of them," explains Grobler. "Throughout the story a fine balance is being handled between the danger and desirable, the vulnerable and the ruthless, making the threat real, and keeping things interesting to the appeal and fascination of the readers."
"Gone Before Midnight"
By I. Grobler
Softcover | 5 x 8in | 186 pages | ISBN 9781481780698
E-Book | 186 pages | ISBN 9781481780704
Available at Amazon and Barnes & Noble
About the Author
Born in South Africa, I. Grobler grew up in a small town, the youngest of three sisters. When she was little her mother took her and her sisters to the library, where they spent hours reading books. She is married and working on her third book; her first book was "Love and Magic."