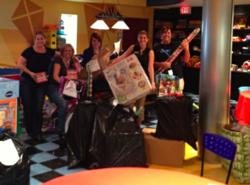 2012 has been a very busy year for us, I am excited to be able to dedicate more time and service for our expanding charity services in 2013. Amy Huth, Image Forward.
Tampa, FL (PRWEB) December 30, 2012
Recently as part of a tour of The Children's Cancer Center in Tampa, Amy Huth of Image Forward delivered material donations to 16 families "adopted" by the Grey Hawk community of Lake Polo in Odessa, Florida. Items delivered ranged from bed sheets, to bikes and items on their wish list. "It's not every day where you get to see things from another family's perspective. Spending time with families who are out of their homes during the holidays, many of them holding on to hope as so much of everyday life is set aside to battle cancer, is a very humbling experience," states Huth.
This special holiday delivery was the second phase of charity work organized by Huth for the Children's Cancer Center of Tampa. Previously in her first official month of duty as Image Forward's Director of Charitable Giving, Amy helped coordinate a Lemonade Stand fundraiser for Children's Cancer Center. The children and families of the Grey Hawk community then worked over the following weeks to collect wish list items and Amy was able to deliver them in person where she could see first hand how the Children's Cancer Center helps families battling cancer.
November and December were Amy's first official months on the job at Image Forward and also the busiest for the internet marketing company's charity-related work. In addition to organizing the donation drive for 16 families working with the Children's Cancer Center of Tampa, Amy and Michael Huth were also in attendance and able to make a donation to New Life Solutions at the Great Turnaround Benefit Dinner and Auction on Saturday, November 10th. This fundraiser and auction helps support the service ministries of New Life Solutions including the Pregnancy Centers of Pinellas County, which offer supportive services for women and families seeking assistance with pregnancy-related matters.
Finally Michael Huth, CEO of Image Forward competed in, and successfully completed his first Tough Mudder competition whose physical obstacle challenge events support and raise money for the Wounded Warrior Project.
Charitable organizations Image Forward works with:
In addition to monetary contributions, Image Forward provides Marketing and Internet Marketing services such as Facebook Advertising, Press Releases, Social Marketing and free or discounted use of its proprietary tools purpose built to aid companies with these important services.
About Image Forward
Image Forward, a digital marketing agency, helps our clients to drive revenue by leveraging and building audience engagement through the use of proprietary tools including a high recognition local SEO directory system (if-Places) containing over 105,000 local business listings and automated social content distribution system (if-Social). The company provides turnkey Internet Presence Management Solutions to improve brand visibility by establishing a local search presence and publishing high value content to social portals.
###