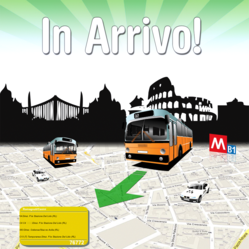 iOS 6 turn-by-turn directions for the public transport in Rome
Rome, Italy (PRWEB) October 09, 2012
Italian iOS developer Fabrizio Bartolomucci is pleased to announce the recent release of the latest versions of his comprehensive travel suite designed to make getting around the city of Rome simple and intuitive. Building upon the success of the original In Arrivo app, Bartolomucci has expanded his portfolio to create a travel toolkit which will help tourists and commuters navigate the major metropolitan areas of the Eternal City.
"When working on In Arrivo I quickly realised that travelers in Rome may need access to more than just information on using the municipal bus service," said lead developer Bartolomucci. "Many tourists and commuters prefer using the metro system or the privacy of taxis. Working with many taxi drivers and firms across Rome, we have created a comprehensive travel booking service which accounts for these people's travel needs."
In Arrivo HD is designed for travelers and allows them to navigate the 8000 bus stops dotted across the city and obtain up-to-the minute details of each bus location. In Arrivo also helps passengers decide how long they have between buses and even which side of the road they need to wait on.
Similar functionality has been added to show locations of metro stations and train times, adding additional travel options for users. Route plans can be created in advance including full details of any departure and arrival times, and where changes on metro lines must be made. The entire route is mapped using the new Apple Maps engine allowing a clear visual overview as the journey progresses along with a list of way points and detailed instructions regarding changes and route numbers.
The latest release of In Arrivo is also one of the few apps available that allows public transport directions from within Apple Maps using the new iOS6 Routing Apps feature. Simply enter your destination in Apple Maps, tap the public transport icon and then select in Arrivo HD to perform the navigation.
Version 4 of In Arrivo HD goes even further by allowing travelers to book taxis directly from their iPhone and iPad and track their progress to the pick-up point. In Arrivo allows users to track the taxi's progress on a map, allowing them to estimate the arrival time and how much longer they need wait. By simply tapping on a nearby taxi, the user can book the taxi and see full details of the car and driver increasing their personal safety and doing away with the need to call a taxi booking service.
"Booking a taxi requires travelers to call a telephone service, who will then arrange a car to be dispatched.," said Bartolomucci, "using In Arrivo however, all they need do is tap the icon corresponding to a nearby taxi and they can book a ride before leaving their hotel room, office or restaurant. There is no more middle man, which slows the whole process down and increases the overall cost of the ride. We have really focused on making everything as easy as possible for visitors to our great city. If you can't see a nearby taxi, just tap the button at the top – the app will automatically locate your nearest cab."
Companion app In Arrivo Express has been designed for iPhone users who just need accurate arrival and departure times for their journeys. A slimmed down app provides the bare-bones required to travel across Rome, making it a smartphone companion to the full-service HD app. A simplified display shows the progress of buses and taxis allowing at-a-glance updates of buses and taxis without the additional information such as bus stops and metro stations as shown in The HD app. As the name implies, In Arrivo Express is for travelers who need to get moving quickly.
The In Arrivo apps are complimented by Taxi Professional, which notifies Roman taxi drivers of customer bookings. When a user taps and books a taxi, the driver of the selected vehicle receives instant notification on their own iOS device of who they are collecting and from where. The fact that In Arrivo is a paid-for app provides also drivers with some protection against no-shows, wasted journeys and fake bookings.
"Taxi Professional offers cab drivers in Rome a way to guarantee bookings and makes it very easy to locate and identify passengers," said Bartolomucci, "Using Taxi Professional there is no need for a costly booking system to be installed in their home or office – everything is delivered directly between the customer and the driver, no other software is required. "
"Best of all," Bartolomucci continued, "is that Taxi Professional and In Arrivo can now be used to book a cab anywhere in the world. Wherever drivers have signed up to the Taxi Professional service, customers can book a ride."
In Arrivo HD v4.3, In Arrivo Express v1.5 and Taxi Professional v1.2 are compatible with all devices running iOS 6 and higher and require a live internet connection to operate correctly. A useful on-screen counter built into the app helps users keep track of their data usage and avoid unexpected roaming charges.
Live updates, support and suggestions for the In Arrivo suite can be found on the Facebook fan page managed by Fabrizio Bartolomucci at: https://www.facebook.com/inArrivoIOS
Existing users of In Arrivo are encouraged to leave reviews on iTunes to assist other travelers in Rome to locate this comprehensive transport planning toolkit.
In Arrivo HD 4.3 is only $3.99 USD (or equivalent amount in other currencies) and available worldwide exclusively through the App Store in the Navigation category.
In Arrivo Express 1.4 is only $0.99 USD (or equivalent amount in other currencies) and available worldwide exclusively through the App Store in the Navigation category.
Taxi Professional 1.2 is free for authorized taxi drivers and available worldwide exclusively through the App Store in the Productivity category.
Based in Rome, Italy, In Arrivo and Taxi Professional are the brainchildren of Dr Fabrizio Bartolomucci. Bartolomucci has been developing computer software since his youth, before graduating in 1988 with a degree in Computer Science from the University of Pisa. His apps, including iPuja Pro and VirtualTags, have received a number of positive reviews from iOS specialist blogs including AppGiveAway, SlapStart and KillerStartups thanks to the friendly nature of his user community.