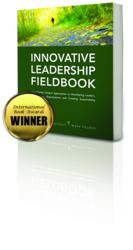 This workshop helped me reframe my approach to leadership. I learned several valuable tools that I can take back to my office and employ immediately. - Hospital CEO
Columbus, Ohio (PRWEB) May 02, 2013
Today's dynamic world requires leaders across all sectors to invest in ongoing leadership development. It requires leaders innovate how they lead at the same rate they innovate what they do.
Maureen Metcalf will lead a workshop, Innovate How You Lead, for the 2013 World Conference on Quality and Improvement with more than 100 sessions focused on the theme of managing change. Join this interactive session to learn how leaders can update their leadership skills by exploring the five elements of innovative leadership as described in the recently published Innovative Leadership Fieldbook. Written by Maureen Metcalf and Mark Palmer, this Fieldbook was named Best Business Reference Book in the 2012 International Book Awards.
The accessibility, volume, and variety of information that is available today far exceeds that of any other time in history. This fact, coupled with the ever-increasing influence of the global marketplace, has brought about many changes to today's businesses. It has changed how we work, increased the number of places where we're able to work, and expanded the number of people we're able to work with. This evolution has changed the dynamic between businesses and their customers, increased the amount of work we are able to do, and created new opportunities and new challenges.
Change is ever-present, unpredictable, and occurring at an ever-increasing pace. In the face of this change, the 2013 World Conference on Quality and Improvement offers both respite and guidance in the navigation of today's changing world. The conference offers a forum of ideas and an international network of thought leaders, experts, and peers eager to share the proven results achieved through quality.
What this reflection has led to is the realization that, now more than ever, we need to attract leaders who enhance professional competency and also move beyond professional competency to include what the Innovative Leadership Fieldbook defines as "internal capacity."
Metcalf & Associates, Inc., is a leadership development and management consulting firm that uses an integrative approach to help leaders and their organizations innovate how they lead and how they operate, helping them to thrive in a rapidly changing environment. CEO Maureen Metcalf is an acclaimed thought leader who has developed, tested, and implemented emerging models that dramatically improve leaders and contribute toward organizational success. Go to http://www.innovativeleadershipfieldbook.com to find out more about Metcalf & Associates and for information about all the workbooks in the series.