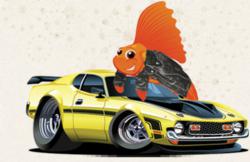 But it is advised to shop around regularly for competitive prices on insurance...
(PRWEB) April 04, 2013
RoadFish.com men's lifestyle and finance magazine today released their observations regarding a recent Fox Business article about insurance companies and the seemingly odd practice of checking the insured's credit report as part of many company policies. RoadFish.com dished out advice on why consumers may want to buff up their credit for the insurance companies, even though they may be with one that doesn't currently check, and how, why and when to shop around for new insurance.
Jack Hungelmann of Fox Business recently answered a question from a reader who wondered why an insurance company would pull his credit report, especially when he pays the premium upfront using cash. Hungelmann stated that the way for insured people to achieve the lowest insurance rates is to become a part of the groups with the lowest probability of filing claims. He explained the intricacies of insurance companies, how different groups of people have been statistically shown to make more or less insurance claims and how things like turning 25 or getting in an accident can bump a person from one group into another. The article states that insurance companies have come to realize that people with great credit actually file less claims than those with poor credit, thus many check credit score of their insured customers and discount premiums for people with high scores.
RoadFish.com implored consumers to work on their credit even though they may not currently get their insurance through a company that checks credit. RoadFish.com's Senior staff writer explained, "Many of you might not be familiar with the practice of insurance companies checking credit, especially if you have been with your current insurance company for awhile and it's not part of their policy. But it is advised to shop around regularly for competitive prices on insurance, and you don't want to not be considered for a fantastic rate because your credit score isn't in top shape. It is in your best interest to work on your credit now, rather than right before or exactly when you really need it. That way you give yourself enough time to mend and problems with your report, and beef up your score in an organic way to give yourself that up by falling into that low-risk group that the insurance companies give discounts to."
RoadFish.com recommends that consumers insurance-shop around once per year, pointing out that the company one goes through in the present might have been the best deal several years ago, but could currently be outshined by another company now. RoadFish.com's Senior staff writer is quoted as saying, "Once per year is generally a good number to shoot for. Make sure you're comparing the same sorts of things, make sure you're not comparing apples to oranges. Find out the rates for the exact things you currently have. It's also a good idea to insurance shop when your circumstances change, such as when you get married, pay off your car loan, or after you've been living in a home that you purchased for awhile. Remember that different companies offer different discounts, and that some of them might give you a fantastic one for having great credit and you don't want to be disqualified from a great deal because your credit is not good."
In the above-mentioned article, Hungelmann recommends that if somebody is unable to inch their credit score up by very much even after working on it, it is a good idea to find an insurance company that does not put much stock—if any—in credit scores, and can give discounts for other things instead, because there are some companies out there that still do not carry out this practice.
About RoadFish.com:
RoadFish.com is a men's lifestyle and finance magazine found online and structured for men in their 30's and 40's. RoadFish.com writes for those who have already achieved a decent level of success in life, and would like to gain more. RoadFish.com's articles include advice on dating women, luxury items, and travel. Financial topics broach the subjects of debt, budgeting, and news such as a new credit scoring model being rolled out. RoadFish.com is owned and operated by Purpose, Inc.