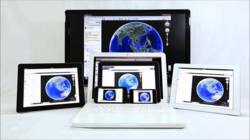 Point your iPad or Android tablet at the screen and the device turns into an interactive whiteboard surface
Singapore (PRWEB) September 04, 2012
Smoothboard Air is a new collaboration software that allows presenters to share the computer screen among multiple participants with mobile devices such as iPads and Android tablets. With the use of a QR Code projected on the screen, participants within the room may scan and access the screen from their mobile device without any app installation, which is made possible with HTML5 web browsers.
Due to Smoothboard Air's simplicity, new participants may be invited to join and start collaborating instantly. Each mobile device becomes an interactive whiteboard surface where both presenters and participants may annotate on any application simultaneously.
Smoothboard Air also allows remote desktop control directly from an iPad or Android tablet. The presenter or teacher may assign permissions for each participant to have access to annotation or remote control functions.
"BYOD (Bring Your Own Device) classrooms where students have their own mobile devices will find Smoothboard Air an excellent platform to complement lessons", says Boon Jin, Founder of Smoothboard Tech.
Key Features:
Connect instantly with QR Code - No app installation required
Annotate - Draw on any desktop application
Remote Control - Control the computer's cursor and keyboard wirelessly
Collaborate - Real-time collaboration with multiple mobile devices
Access Control Panel - Limit individual participant's access
Smoothboard Air is available for download from http://www.smoothboard.net
Watch Smoothboard Air demonstration video: http://youtu.be/-FFrUJJDthw
Watch Smoothboard Air animated introduction video: http://youtu.be/Y0pplrd0e18
About Smoothboard Tech
Founded in 2009, Smoothboard Tech is a Singapore-based startup with the vision to transform interactions in classrooms and meeting rooms. Smoothboard Tech has more than 100 000 downloads from users across the globe for the Smoothboard 2 and Smoothboard for Mac software which turn screen displays into interactive whiteboards.