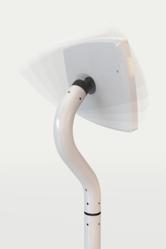 The ArmoTwist transforms any Armodilo(ex) or Armodilo(rt) Freestanding and Armodilo(rt) Surface Mount into the most fun, interactive, and exciting display solution available
Waterloo, Ontario (PRWEB) December 12, 2012
Armodilo Tablet Display Stands can now be fitted with the ArmoTwist, making the versatility and functionality of the award-winning tablet kiosks even more extensive. Tablet users can adjust the viewing angle of the head unit for their specific height, extending the functionality and interactivity of the tablet display stand.
"We're continually working on improving and extending our tablet display stands to be more versatile for our clients," says Iles Guran, Founder and CEO. "Implementing modular add-ons, such as the ArmoTwist, helps our clients extend the versatility of their tablet kiosk applications in a variety of venues including: trade shows, events, retail and corporate settings."
Prior to launch, the ArmoTwist design has undergone 100+ hours of rigorous testing to ensure it will withstand day-to-day use. As quality is one of the core values at Armodilo, it is standard for each ArmoTwist to be manually assembled, and pass quality control inspections before being made available for sale.
The patent-pending design of the ArmoTwist features high quality production materials consisting of black anodized aluminum and Delrin. It incorporates a removable stop to be able to limit its rotation to 360 degrees, is tension adjustable, and allows for power cables to be run internally. "The ArmoTwist transforms any Armodilo(ex) or Armodilo(rt) Freestanding and Armodilo(rt) Surface Mount into the most fun, interactive, and exciting display solution available," adds Guran.
Additional information on Armodilo Tablet Display Stand products and accessories can be found at http://www.armodilo.com
About Armodilo Display Solutions
Armodilo Display Solutions is a multiple award-winning tablet display manufacturer located in Ontario, Canada. With a variety of tablet display stands and accessories for trade show, event, retail and corporate markets, Armodilo sets itself apart by creating highly refined products for discerning brands around the world.
For more information about Armodilo, contact:
Iles Guran Founder & President at Armodilo Display Solutions
sales(at)armodilo(dot)com / 1-800-975-5946