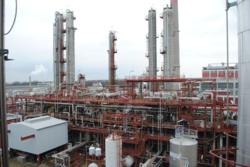 Hamilton, NJ (PRWEB) May 02, 2013
According to a recent report by energy analysts GBI Research, U.S. companies imported 329,118 tons of butadiene in 2012. The leading butadiene suppliers were Canada, South Korea, Netherlands, China, the U.K. and Germany. The report forecasts U.S. demand to rise to 524,916 tons by 2020.
International Process Plants announces a butadiene extraction plant for sale. The plant uses a C4 feedstock and DMF solvent in a Lurgi-installed Nippon Zeon GPB extractive distillation process to produce 90,000 tons/year of 1,3-butadiene with a purity above 99.6%.
"Many major markets, including the U.S., are expected to be net importers of butadiene for the significant future," says IPP Director of Plants Michael Joachim. "Suppliers to these markets with access to additional butadiene-rich C4 feedstocks that have a high share of alkynes may want to consider purchasing an existing butadiene plant that has one of the modern extractive distillation processes that includes an alkyne separation stage, such as the Nippon Zeon GBP. Given reports that new plants with smaller capacities cost as much as $50 million USD, existing plants represent the opportunity to significantly increase capacity at a small fraction of the cost of building new."
More information about the butadiene extraction plant, and other plants for sale by International Process Plants, is available at ippe.com.
About International Process Plants
International Process Plants (IPP) is a self-funded global buyer and seller of surplus manufacturing facilities, process plants, industrial real estate, and individual equipment that are no longer needed by their original owners. 80% of IPP's purchases are from multinational companies and 20% are bought in distress situations. IPP's business model provides the opportunity for companies to acquire such assets at competitive prices and in a fraction of the lead time of building or buying new. IPP also serves as an outlet for companies looking to divest surplus assets quickly in a fiscally and environmentally conscious manner. IPP currently owns 17 complete plant sites including the land, buildings and equipment, 85 complete processes to be moved and operated elsewhere and a stock of 30,000 major pieces of process equipment. One of the largest firms in this business, IPP operates globally from its headquarters in the US and its company-owned operations in 16 other countries. In business for over 35 years, IPP serves 160,000 clients in the chemical, agrichemical, petrochemical, oil & gas, paper, plastic, power generation, metallurgical, fertilizer, artificial fiber, pharmaceutical and food industries. Learn more at http://www.ippe.com.