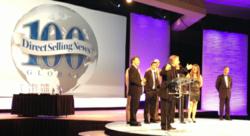 It Works! taking it to a 'whole 'notha level.'
Bradenton, FL (PRWEB) May 05, 2013
It Works! Global was recognized for shattering records and breaking into the Direct Sales Industry Top 100 Global Companies List at #56, with the prestigious Bravo Momentum Award at the annual Direct Selling News Global 100 Celebration held in Dallas.
"What an honor to receive this award recognizing It Works! taking it to a 'whole 'notha level,'" said Kami Dempsey, the top money earner with It Works Global. "This Award shows the passion and dedication of our family of distributors and the integrity behind our company and its products," Dempsey comments.
The Bravo Momentum Award recognizes a company that has demonstrated significant growth throughout the year. It Works! received this award after ranking 56 on the DSN Global 100 List for the first time and for their outstanding growth this past year. It Works! Global's notable $45 million revenue for 2011 surged to $200 million in 2012 (400% growth in sales revenue).
"When I hear the word 'momentum,' I think of the phrase moving forward," commented Kami's husband Nathan Dempsey. "As floored as I am regarding what we have achieved in the past with this home-based business opportunity, I am infinitely more excited about what this award predicts we will achieve in the near future. It Works! Global is moving forward at an incredible rate, and the world is taking notice!"
Founded in 2001, It Works! Global is an innovative leader in the direct sales/network marketing industries that offers health, wellness, and skin care product lines that produce instant results. It is widely recognized for their world's first-to-market product, the It Works! Wrap—a contouring product that can tighten, tone, and firm any area of your body in as little as 45 minutes. For more information, visit http://www.KamiDempsey.com.