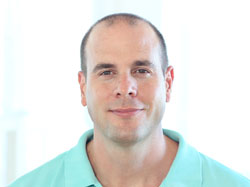 The idea for the split test came from relevant research regarding opting in using first names. An article from The Next Web pointed out that 95% of consumers disliked subject line personalization — receiving emails that began with 'Dear (client's name).'
Sydney, NSW (PRWEB) May 07, 2013
LeadBrite co-founder Clay Collins, a software developer who has helped countless of website owners increase their conversions with the help of the revolutionary LeadPages landing page software, recently engaged in a lively podcast discussion with SuperFastBusiness CEO James Schramko about the latest round of split tests done using the software and how the results can change the way online marketers style their lead generation campaigns.
"I've been split-testing LeadPages with a new campaign that I'm running — we're taking in first names and e-mail addresses on the first LeadPages set up," Schramko explains at the beginning of the podcast. "Knowing that this first part of the conversion process is split-tested, and that I'm getting the best possible opt-in rate, is really going to improve the overall campaign results when we apply quite a lot of advertising budget to it."
One of the things that Collins made a point of testing was the request for a website visitor's first name and email address on the opt-in form versus a request for the email address only. One of the software developer's clients, Juan Martitegui of MindvalleyHispano.com, found a relative increase of 5.2% in his opt-in rate when he dropped the field requesting the first name.
"(Martitegui) found that difference fairly negligible and he has continued to ask for the first name, and as for the folks' response — results might vary, from market to market, but that's what he was getting with his traffic," Collins stated.
Collins explained in the podcast that the idea for the split test came from relevant and interesting research available across the Internet regarding opting in using first names. An article from The Next Web, he recalls, pointed out that 95% of consumers disliked subject line personalization — receiving emails that began with "Dear (client's first name)." The organization MailerMailer, according to Collins, also reported similar findings, that email subject line personalization depresses opt-in rates.
"Now, reasonable people disagree about this all the time, but when you compound or combine these results with the fact that opt-in rates do go down slightly when you ask for the first name, I come down on the side of not asking for names," the LeadBrite co-founder shared. Of course, he is still happy to provide clients the opportunity to use LeadPages to collect first names for purposes that benefit their business, such as being able to address people by name during webinars or giving consumers who ask questions a more personal response by using their first names.
The podcast goes on to discuss another feature of LeadPages that proves to be beneficial to all kinds of businesses — the option to host conversion pages on LeadPages' own server (a very fast server, which is the same one used by a major search engine) or download the whole LeadPages file and put in one's own server, such as through the WordPress platform. Once again, client Juan Martitegui volunteered his company's own split test results and revealed that they experienced an almost 10% relative increase when they used the LeadPages.net URL.
Collins attributes this result to the importance of page speed for websites. "It's been found that 40% of people abandon a website that takes more than three seconds to load. So if someone doesn't wait for a website to load, then certainly they're not going to opt-in," he emphasized.
"If an e-commerce site is making $100,000 per day, a one-second page delay could cost $2.5 million over the course of over a year. So, this stuff isn't just pie-in-the-sky, idealistic stuff. The page speed really affects the dollars and cents of your business. So, it's really important."
As he ended the podcast, Schramko encouraged Web users to check out the latest sales video on the LeadPages site for more information on the landing page software. Collins will also be speaking about Leads and Conversions at Schramko's upcoming FastWebFormula 4 live event taking place in Sydney on June 13 and 14.