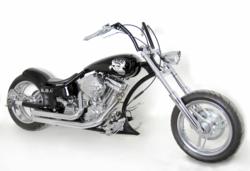 It was a joy and pleasure to put together this chopper for Jason. He has his art and we have ours!
Pompano Beach, FL (PRWEB) October 06, 2012
Demon's Cycle Inc., a custom Harley motorcycle builder and custom motorcycle parts supplier, is pleased to announce that it has built a euro-style softail custom chopper for the award winning tattoo artist Jason Ackerman.
Following the commission, Demon's Cycle built a custom motorcycle from the best parts at its disposable. The bike, which is all black and features the Stroke of Genius logo, has a euro-style softail stretched frame, a billet wide glide front end, a three inch open belt primary, a 6-speed Ultima transmission, an alligator skin leather solo seat, a stretched gas tank and black "El Diablo" ape hangers with spike hand grips.
Jason Ackerman opened his new shop, A Stroke of Genius Tattoos, less than three years ago but already in such a short time Jason and his work have shot to international fame. A Stroke of Genius Tattoos is a high-end, highly regarded tattoo shop of artistic integrity. Its walls are adorned with portfolios and reference books, place there for inspiration, as well as numerous trophies, awards, and magazine articles from all over the country and abroad.
"Demon's Cycle thrives on building custom motorcycles," said Tom Steinbacher, owner of Demon's Cycle. "And it was a joy and pleasure to put together this chopper for Jason. He has his art and we have ours! I just want to thank Jason for asking us to build this superb machine for him."
This year Jason Ackerman was awarded the "2012 Best International New School Artist" by the United Ink Awards. This is a prestigious global award with just seven tattoo artists nominated and, of course, only one winner.
About Demon's Cycle
Based in Pompano Beach, South Florida, Demon's Cycle is an multi-million dollar international custom motorcycle wholesale parts company. It was started more than nineteen years ago by Tom Steinbacher and has developed a reputation as a pioneer of radical motorcycle designs, euro style bikes and custom Harley chopper concepts. As well as building custom motorcycles and selling rolling chassis, Demon's Cycle specialize in the sale of custom parts for Harley-Davidson motorcycles. They offer a wide range of parts including handlebars, hand controls, tires, gas tanks and turn signals.
Contact
Demon's Cycle Inc.
1407 SW 10th Ave.
Pompano Beach, FL 33069
Telephone: 954-943-0000
Fax: 954-943-0377
Email: sales(at)demonscycle(dot)com
Web: http://www.demonscycle.com