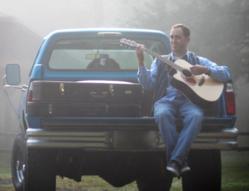 Jeremy McCall's music has a lyrical sense and foot tapping rhythm that sticks to your senses and refuses to leave, leaving you in a euphoric country blues dream state. – Alan Welding, Pittsburgh Music Magazine
Pittsburgh, PA (PRWEB) April 24, 2013
Jeremy McCall, guitarist and songwriter from Pittsburgh, Pennsylvania, releases his debut, Small Stones. His previous work has been featured on IPR, NPR affiliates, and XM Satellite Radio. McCall, an instructor of guitar, bass, and jazz improvisation, teaches almost every style of music and feels strongly that music has the ability to reach into the soul of the listener, to connect them with something deeper. McCall holds a Masters Degree in Jazz Guitar Performance and has studied under the critically acclaimed guitarist Ken Karsh, as well as nationally recognized performer and arranger, Mike Tomaro.
Small Stones delivers an amalgamation of acoustic funk and americana jazz/funk, wrapped in layers of rock, jazz, country, and gospel. McCall mixes progressive rock musicianship with smaller pop forms and takes complex jazz harmonies and meshes them with earthy blues. In the center is a power trio, with a sound that could best be described as a jazzier Mumford and Sons. Lyrically, the writing addresses everyday situations through an eternal lens.
During the last two decades, McCall has performed in many different groups, including classic rock, country, blues, theater pit, jazz, ethnic, and festival groups. Although McCall was trained in jazz, he never lost sight of his primary reason for entering the world of music: writing and performing original material. Small Stones is fresh, exciting, and thoughtful. McCall, along with musicians Justin Bendel (bass/double bass) and Tom Murphy (drums), recorded Small Stones at Grammy-winning Audible Images Recording Studios in Pittsburgh, Pennsylvania.
"Jeremy McCall's music has a lyrical sense and foot tapping rhythm that sticks to your senses and refuses to leave, leaving you in a euphoric country blues dream state." – Alan Welding, Pittsburgh Music Magazine
For more information about Jeremy McCall, visit http://jmccallmusic.com.
If you have any questions, comments or would like to set up an interview, please contact Melissa Zeigler at melissa(at)powderfingerpromo(dot)com.
Powderfinger Promotions Independent Radio Promotion and Publicity - Since being founded in October 1994, Powderfinger has come to be regarded as a top indie radio promoter and publicity firm with ties across North America.