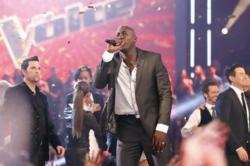 "I learned to follow my dreams and never give up. You don't get there if you stop trying,"
Dallas, TX (PRWEB) October 08, 2012
SUCCESS magazine has obtained the initial release of Jermaine Paul's never-before-heard song, "Everybody."
Along with Everybody, which appears on the CD bound in each issue of SUCCESS, Paul opens up about his life, career and future goals to interviewer and SUCCESS publisher, Darren Hardy. Paul and his inspiring life story exemplify the true spirit of the magazine. "I learned to follow my dreams and never give up. You don't get there if you stop trying," Paul says.
Paul's song "Everybody" tells of of a person striving for achievement while learning, adapting and growing as a professional and as a human being—much like Paul, who with the support of his family and his lifelong faith, won the second season of the reality singing competition lead by the musical mentorship of country super star, Blake Shelton. Paul won $100,000 along with creative control over his next three albums with Universal Republic.
A feature story on Jermaine Paul and his rise from poor preacher's son to the top of the musical world can be found in the November 2012 issue of SUCCESS magazine on major newsstands October 9.
About SUCCESS magazine
SUCCESS empowers entrepreneurial-minded individuals to improve the performance of their businesses and the quality of their lives through solution-oriented content and inspiring real world examples. SUCCESS magazine is published by SUCCESS Partners™, owned by VideoPlus L.P. VideoPlus was established 25 years ago and is an expert at a range of services, including magazine publishing and custom solutions.
Visit SUCCESS magazine at http://www.success.com.