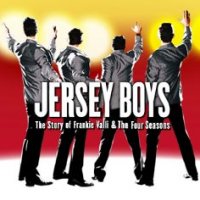 (PRWEB) April 23, 2013
Fans can find Jersey Boys Tickets now for the best seats to see the acclaimed musical production that has won multiple Tony awards and entertained millions. Becoming famous on Broadway in New York City, the musical has spun off numerous productions worldwide, including semi-permanent stays in London, Sydney, and Johannesburg. It is an international sensation that will hit the road this summer in the U.S. for only the 3rd time since its inception.
Starting its run on Broadway in 2005, the Jersey Boys Musical tells the story of the well-known pop band, the Four Seasons. With Frankie Valli leading the group, they rose to fame from their New Jersey background in the 1960s. Their classic hits include "Big Girls Don't Cry," "December 1963 (Oh, What a Night)," "Can't Take My Eyes Off You," and "Rag Doll." The band has sold over 175 million records across the globe, and all of their favorites feature prominently in the musical's score. It has had millions of fans tapping their feet and dropping their jaws at the spectacular visual on the stage.
Winning the Tony award for "Best Musical" in 2006, Jersey Boys is already one of the longest running shows ever shown on Broadway. It is no mistake that the Jersey Boys has enjoyed such fame. It owes its success to the fact that this slick show can delight the biggest fans of musicals, as well as anyone that simply enjoys those golden oldies of the past.
The Jersey Boys Musical tells the true, unadulterated story of the Four Seasons, following the work of biographers and New Yorker contributors Rick Elice and Marshall Brickman. It is a tale that describes the band's meteoric rise to and subsequent difficulties with fame. Their journey includes mobsters, girls, and of course the upbeat, classic songs of the Four Seasons. The musical production details the gritty realities of the early days of rock and roll, juxtaposing them with the feel-good tunes that made the Four Seasons a timeless hit.
This summer's tour will kick off in San Francisco at the Curran Theater starting March 9. The two and a half hour extravaganza will take the stage in over 20 other cities, including Las Vegas, Seattle, Columbus, Cleveland, Baltimore, and Salt Lake City. Jersey Boys will finish its tour with 8 performances at the Gammage Auditorium in Tempe, Arizona ending August 10, 2013.
Some 14 million fans worldwide have experienced the fun of the Jersey Boys Musical, with over half a million Americans buying tickets 2007 alone. These tickets are sure to sell fast, so come see why this musical is one of the most popular ever and continues to garner new fans every year. Jersey Boys tickets are available now for this summer's must-see Broadway performance at eCity Tickets.