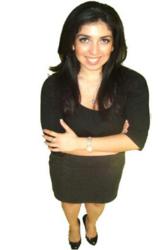 Our goal is to get you the right information, at just the right time.
Orange County, CA (PRWEB) May 08, 2013
Online Marketing Expert and CEO of Wizard Media Jimena Cortes vows to help the Business Owners and Entrepreneurs overcome and succeed against Google and the latest challenges caused by the most recent update to their algorithm. Jimena Cortes is a sought after speaker and warns that, "because Google rolled out several updates to their algorithm which changed the way the SEO game was played, many companies lost their rankings which stopped the organic traffic coming from Google. As a result, many businesses started to pour money into Adwords campaigns, which only gave them minimal benefits. Many SEO firms do not foresee the changes Google is planning to make, or worse once they happen they do not change their strategies which results in many hard working businesses losing their organic traffic overnight forever."
Jimena Cortes adds that, "by evolving our SEO strategies to be in alignment with Google's efforts to increase user experience, we were able to keep our customers at the top of Google even when they change their algorithm."
And though Google CEO Larry Page mentioned the service of Google while on the company's earnings call last week, "our goal is to get you the right information, at just the right time..." Jimena Cortes reminds them that, "the 'right time' is not fast enough, even for Google."
Jimena Cortes adds that she is, "focused on making sure our clients appear at the right time when their prospects are looking for them. Our strategies and correctly implemented special features can change what terms users are searching. We are preparing our clients for this shift. "
On the changing landscape of Google search, Cortes says, "Search engines are constantly evolving and it is our job as a quality internet marketing firm to evolve along with them and react quickly to changes. This is why when Google rolls out new features or changes we take action immediately and adapt to continue to give our clients top of the line marketing services."
About Wizard Media:
Wizard Media is based in Orange County, California and provides internet marketing consulting to small/medium businesses throughout the United States. To get more information on any services including Search Engine Optimization, Video SEO, Mobile App Development, Social Media Management and Website Design, or to book Ms Cortes for speaking engagements please see contact information below:
Jimena Cortes
Info (at) WizardMedia (dot) net
WizardMedia.net
Phone: 949-861-8414
"Jimena Cortes is Proud to Support The HOME Foundation"
About The HOME Foundation:
The Helping Others Means Everything, or The HOME Foundation, is a not-for-profit organization dedicated to helping our Family of Charities. Frankie Verdugo, President of The HOME Foundation, wants to help as many worthy charities as possible as they struggle during these tough economic times. Frankie Verdugo helps raise funds through luxury dream home raffles, home giveaways, prizes, and high profile celebrity events in Hollywood... "Our mission is to help charities reach their fundraising goals and to bring awareness to their praiseworthy causes."