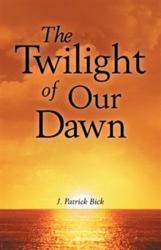 FRANKLIN, Tenn. (PRWEB) May 13, 2013
In "The Twilight of Our Dawn" (published by Abbott Press), J. Patrick Bick transports readers to the far future, where clonies live among humans. One clonie becomes a killer, and investigator Jordan Andrews must stop this member of his own kind before all clonies become targets.
In the year 2410, so-called "clonies" have become controversial issue. Originally revered as miracles of science, these test-tube humans have become feared and ostracized. True, they are useful; they are stronger than regular humans and can perform dangerous tasks that normal people could not withstand. Even so, politics is turning against them. They are considered abominations by many, and their survival is in peril.
Jordan Andrews is one such clonie. A private detective and occasional bodyguard, he is hesitant when asked to hunt down one of his own. A clonie assassin has been killing politicians, police and just about anyone else threatening the clonie population. The killer even took out two innocents, merely because they witnessed one of his vicious attacks. Jordan does not want to hunt his own kind, but he does want to stop the perpetuation of fear among humans.
He makes the acquaintance of Linda St. John, who just lost her family to the assassin's bloody cause. Due to his investigation, Jordan soon becomes a target, as does Linda. Together, they must avoid a powerful assassin and find a way to make him stop. But is there method behind this killer's madness? Navigating government policy and science, a clonie and human must work together in a fight for survival in an unforgiving, futuristic world.
"The Twilight of Our Dawn"
By J. Patrick Bick
Hardcover | 5.5 x 8.5in | 320 pages | ISBN 9781458207487
Softcover | 5.5 x 8.5in | 320 pages | ISBN 9781458207494
E-Book | 320 pages | ISBN 9781458207470
Available at Amazon and Barnes & Noble
About the Author
J. Patrick Bick was born in Cincinnati, Ohio. He graduated from Vanderbilt University and now lives in Franklin, Tenn.
Abbott Press, a division of Writer's Digest – the oldest and most respected publisher devoted to the education and advancement of writers – is an indie-publishing imprint dedicated to helping writers bring their literary vision to print. Author Solutions, Inc., a leader in indie book publishing, will fulfill publishing, sales, and marketing services for Abbott Press. For more information, or to begin publishing a book today, log on to abbottpress.com or call 866-697-5310.
###