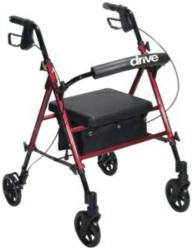 As you age, exercising gets more challenging. But it also gets much more important.
Fulton, MD (PRWEB) February 19, 2013
According to a survey by JAMA Internal Medicine, although Baby Boomers are living longer than the previous generation they are less healthy. The survey found that Boomers more likely to have high blood pressure, high cholesterol, diabetes and obesity. The cause of the problem—poor diet and lack of exercise.
"As you age, exercising gets more challenging. But it also gets much more important," said JustWalkers.com pharmacist Bryan Mercer. "We're doing what we can to help the aging maintain an active and healthy lifestyle."
JustWalkers.com sells a variety of mobility devices from canes to rollators to help those who can no longer walk unassisted continue to live healthy, active lives. Over the past few months, healthy living advice has become a much bigger part of their blog. Their team of writers covers tips ranging from "How to Safely Use Your Mobility Aid" to "Low Impact Exercises for the Elderly." They also write about the benefits healthy living can have, including giving you more energy, keeping you social, and helping your mind stay young.
The good news is it's never too late to start exercising. According to Mercer, "Even thirty minutes of exercise a day will make a huge difference in how you feel. If you're being slowed down by your walker, consider using a rollator. They don't provide quite as much stability, but they let you move around much quicker and help you maintain a more active life."
About JustWalkers.com
Just Walkers provides premium walking aids throughout the United States for people of all ages looking for the best mobility products at the lowest price. They understand the importance of choosing the perfect mobility device to fit your needs. With this in mind, they offer only the best products, parts, and accessories including detailed information about each product and numerous user reviews to help you with your decision. They are proud to serve those who seek information and assistance in determining which walking aid works best for them. With a wide assortment of walking aids at affordable prices, JustWalkers.com is determined to make your shopping experience worthwhile.