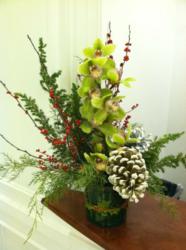 'Using a combination of fresh flowers, foliage and eye-catching Christmas decorations, we are able to create dazzling displays which will enhance the look of the venues'.
Alexandria, Virginia (PRWEB) December 12, 2012
K Aubrey Flowers launches new website.
Located in historic Old Town Alexandria, K Aubrey Flowers and its dedicated team of designers are ready to meet any floral needs for the upcoming Holiday Season. With more than 50 years of combined design experience, the dedicated team of floral specialists can help transform a holiday dinner table or special event into something truly memorable. Their passion for flowers and attention to detail enables them to customize each order, from large scale events to unique individual creations.
Located a short walking distance from the King Street Metro, K Aubrey Flowers has become a landmark on the corner of busy King Street and West Street. During this time of year, shoppers delight in seeing the festive holiday displays in the windows that includes falling snow to create a winter wonderland.
With an early Thanksgiving this year, Christmas has arrived at K Aubrey Flowers. During this time of year, K Aubrey Flowers has already started to prepare beautiful festive decorations and is planning specialized holiday displays for their weekly contract clients. 'This is an especially fun time of year as florists can be truly creative. Each year we look towards the latest trends and reinterpret traditional classics in new ways to create stunning and unique floral displays for all our restaurants, offices and contract clients', says head florist Kevin Aubrey, 'Using a combination of fresh flowers, foliage and eye-catching Christmas decorations, we are able to create dazzling displays which will enhance the look of the venues'.
Everyone is invited to peruse through the gallery of pictures. There you will find an assortment of timeless and elegant floral arrangements categorized into different galleries that highlight either a different season or venue. For example, the lead designer, Kevin Aubrey is a member of the National Cathedral flower guild and has created numerous displays including the high alter flowers and displays throughout the various chapels. He is also responsible for the weekly flowers at Augustana Lutheran Church in downtown Washington, DC as well as other restaurants, offices, salons and condominium lobbies throughout the metropolitan area.
While looking through the galleries, be sure to check out the Christmas gallery. There you'll find examples of the lush romantic style that has come to define K Aubrey Flowers signature approach to transforming the ordinary into something extraordinary. The shop also specializes in creating custom wreaths for front doors & windows as well as offering an extensive selection of heirloom ornaments that will become part of any treasured holiday memories.
When ready to order, simply go to the order page on line or call the shop to speak directly with one of the design professionals. They will be happy to assist you in selecting just the right mix of flowers to meet any holiday needs.
About K Aubrey Flowers
K Aubrey Flowers is an award winning florist in northern Virginia, catering to clients in the DC Metropolitan area and specializing in weddings and other special events. As a landmark in historic Old Town Alexandria for more than 20 years, K Aubrey Flowers is pleased to have excellent working relationships with many local venues. Having an intimate knowledge of these settings helps them to create just the right look for the perfect affair. Whether you are looking for dramatic tall arrangements or a lush, long, low centerpiece to add elegance and richness to the home, their floral pieces are carefully crafted to accentuate the mood and reflect the specific tastes of any décor. From the traditional to the contemporary, every arrangement is executed with beautiful flowers and a unique design approach. http://www.kaubreyflowers.com
As a premier area florist, K Aubrey Flowers looks forward to working with the client to provide the finest flowers and design services to suit any floral needs.