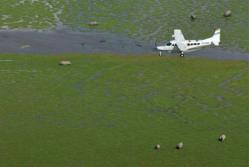 Flying in low altitude, it is possible to spot animals from a different perspective while listening to the comment and explanations of the professional guide
Mombasa, Kenya (PRWEB) January 22, 2013
Founded by pilots in 2008, Scenic Air Safaris wanted to create a unique product in Eastern Africa. Using some of the best camps in Kenya and connecting them through flights on a luxurious aircraft they have created a safari experience that is unmatched.
Unlike other flying safaris the aircraft and the flights are an integrated part of the safari experience. "The aircraft is not used to get quickly from one location to another, but it is part of the entire journey. Flying in low altitude, it is possible to spot animals from a different perspective while listening to the comment and explanations of the professional guide."
Unlike many might expect, the aircraft is not fitted with a standard interior, but it was fitted with only eight very comfortable leather seats, air conditioning and headsets for each passenger. "This makes us very unique in Kenya and clearly sets us apart from the competition." At the end of 2012, Scenic Air Safaris took delivery of their second Cessna Grand Caravan and extended their product range. It now features more destinations throughout Kenya and Africa and can offer customized luxury safaris to any destination in eastern Africa. The aircraft are available for charter flights out of Mombasa and Nairobi so that guests can very comfortable connect from and to their international flights.
Scenic Air Safaris is also selling directly to its clients. From the early planning stage the sales consultants work very closely with the customer. Every aspect of the safari is carefully planned and customers are given different options from which they can choose. Once clients arrive in Kenya they are welcomed by their driver who takes them to the hotel or transfers them to the nearby local airport where they will be met by the pilot and the private guide who will ensure they experience a holiday of a lifetime.
If you are interested in getting to know more about the company, the luxury safari camps and the unique luxury safaris, visit http://www.scenicairsafaris.com or contact us via sales(at)scenicairsafaris.com and watch our air safari video.