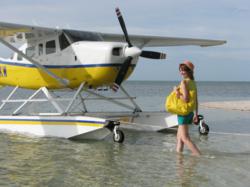 It is a spectacular experience
Key West, FL (PRWEB) January 31, 2013
Key West Seaplanes, the region's premiere private seaplane charter company is featured by VISIT FLORIDA- sponsored web site and blog "ILoveTheSpa.com" in an article entitled "This Week's Escape: A Private Island in the Florida Keys" on January 27, 2013.
In this enticing article laced with photos and a video, writer Kara Franker excitedly shares, "Little Palm Island Resort & Spa is the ultimate romantic getaway for couples. First things first, it's an island, so you can only get there by yacht or seaplane. It's located about one hour (by air) from Miami International Airport and the pilots of Key West Seaplanes will happily whisk you away for your adventure down to Little Palm Island. If you haven't seen the Keys from about 500 feet up in the sky, you haven't truly lived yet. It is a spectacular experience".
Franker adds, "You will absolutely love pilots Nikali Pontecorvo and Julie Ann Floyd – with more than 30 years of local aviation experience between the two of them, they make an all-star team! One of the coolest parts? They will custom-design an island-hopping adventure for you. To book your seaplane reservation contact Key West Seaplanes at (305) 294-4014 and visit them online at KeyWestSeaplanes.com". See her blog at Key West Seaplane/Little Palm Island at ILoveTheSpa.com.
Key West Seaplanes is based in Key West, Florida and has recently expanded it's fleet with a custom-designed and custom-built luxury seaplane. It boasts the most cutting-edge modifications to assure the safest and most comfortable ride possible in any seaplane. The company offers seaplanes from Miami to Little Palm Island, Key West and the world beyond. Flights span the U.S. mainland, all The Florida Keys as well as the Bahamas and Caribbean.