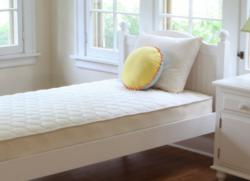 Naturepedic organic mattresses are the first choice among health conscious parents.
New York, NY (PRWEB) May 07, 2013
Every bed needs a mattress to accompany it. That is why ModernTots.com has decided to add mattresses to their offerings. Modern Tots is an online store that specializes in modern kids furnishings. They have done well with the selection of kids beds that they offer and would like to provide their customers with an option to buy mattresses to go with them, according to store representatives.
"We are excited to be offering organic mattresses as an option to go with any of our toddler beds and twin beds," says the director of merchandising, Carmen Scyphers.
The first brand of mattresses that ModernTots.com is offering is Naturepedic. Naturepedic Mattresses are high quality organic mattresses, which means that they are made with organic and non toxic materials. These mattresses are certified under the Global Organic Textile Standard (GOTS). Naturepedic makes several options of their mattresses which range in price. The first is the 2-in-1Ultra which is waterproof and has a dust mite barrier. Next there are the 1-Sided Quilted Deluxe and 2-Sided Quilted Deluxe, which as their names state, are quilted for comfort. The option for the 1 Sided mattresses gives a bit of a price break to the buyer. Each mattress has its special qualities, but all of them are organic and GreenGuard Select Certified.