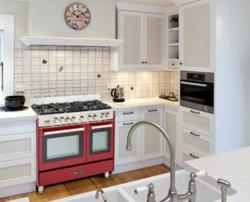 A cheerful palette makes for a more casual, personable kitchen, whether it's in the form of an accent wall or a few small pieces of decor.
(PRWEB) June 17, 2013
HomeThangs.com – the Online Home Improvement Store has made their goal to deliver the right product to the consumer. With that in mind, shopping and home design tips, as well as special product selections are being introduced.
Kitchens have moved to the forefront of home design, and as such have become something of a venue for homeowners to express their personal style. This is showing up most noticeably in the increasingly common use of bright, bold colors. A cheerful palette makes for a more casual, personable kitchen, whether it's in the form of an accent wall or a few small pieces of decor. With that in mind, HomeThangs.com has released a guide to the trendiest ways to add color to an existing kitchen.
1. Kitchen Range
The prevailing wisdom in kitchen design is that most appliances should be hidden, designed not just in neutral colors, but with panels to match the surrounding cabinetry. The one big exception is the kitchen range. While other kitchen appliances are blending into the background, ranges are starting to stand out, with bold, primary finishes that add a vibrant pop of color and can bring even an otherwise completely neutral kitchen decor to life.
2. Colorful Chairs
One of the simplest and most affordable ways to liven up a kitchen or dining space is with colorful chairs. Bold, brightly colored dining chairs or bar stools are a great way to add personality and pizzazz without overwhelming the space with color. Modern plastic chairs create a casual vibe, while vintage pieces add a nice retro flair (and can easily be mixed and matched).
3. Bright Backsplashes
Tile backsplashes have become hugely popular in the kitchen, and offer an excellent opportunity to infuse a kitchen with a little color and personality. A single, solid colored miniature accent wall can make a bold statement, while a mixture of multiple tile colors is a nice playful touch. Just be aware of the size of the tiles and the number and variety of colors – too-small tiles or too many colors can make the wall look busy.
4. Kitchen Islands
A colorful kitchen island will create a bold contrast against simple wood or white cabinets, livening up the space without flooding it with color. This is an especially good option in a slightly smaller kitchen, where the island can act more as a statement piece. This is an excellent option for adding a significant amount of color without purchasing a large appliance or customizing all the kitchen cabinetry.
5. Eye Catching Lighting
Upgrading to colorful lighting fixtures is another simple, affordable way to incorporate color into an existing kitchen. Red milk-can style lights especially charming in a white, farmhouse style kitchen, but almost any colorful pendant light will work depending on the decor. Solid colors work best, and the effect is nicely amplified when the light is the same color as other decor items (large or small) scattered throughout the kitchen or dining area. Bright blue pendant lights are nice on their own, but with a matching vase, tea kettle, refrigerator magnets, and so on, it becomes a really lovely installment.
6. Replaceable Decor
For those who like to change up their decor frequently, it might be best to opt for smaller items that are more easily and inexpensively replaced. A colored glass soap dispenser, dish towels, a small piece of colorful statuary, colored plates stored in an open plate rack, and so on can all make a bold statement, but can be entirely altered in a few minutes and for under a hundred dollars. Fresh flowers or greenery or even fresh fruit are even more easily changed, and can add a vibrant, natural touch that ordinary decor simply can't provide.
To see some of these techniques in action, read the full article here.
HomeThangs.com is not only a home improvement superstore, it also provides expert design tips and a comprehensive shopping guide, taking the ideas from professional interior designers, and offering tips to the consumers on how to pick the products to best suit their needs.