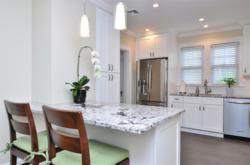 Our all plywood cabinets are the highest quality stock cabinetry on the market, period.
New York, NY (PRWEB) February 15, 2013
Kitchen Cabinet Kings, the leading online retailer of kitchen and bathroom cabinets nationwide, is pleased to announce an exciting site-wide sale for President's Day Weekend. This sale will kick off today and expire on President's Day, February 18th at midnight. For these few days, Kitchen Cabinet Kings will be offering a 10% discount on all kitchen and bathroom cabinets, available either factory assembled or ready to assemble. In addition to the cabinet sale, all orders which exceed $3,000 will receive free residential shipping and choice of a free stainless steel sink, either model number LCL103, LCL104, or LCLT62
There has never been a better time to purchase kitchen cabinets online, especially if someone has been holding off a remodeling project due to budget concerns. The President's day sale is being offered site-wide which includes other related home items such as stainless steel sinks, faucets, hoods, handles, knobs, and more.
"With tax refund checks coming in, there's no better way to spend your refund than on the bathroom or kitchen remodeling project that you've been putting off for years," said CEO of Kitchen Cabinet Kings Anthony Saladino. "Kitchen Cabinet Kings offers discount kitchen cabinets, but we never compromise on quality. Our all plywood cabinets are the highest quality stock cabinetry on the market, period." "Don't take my word for it, go see the cheap kitchen cabinet prices online for yourself, and thank me later when you calculate the savings."
To take advantage of this offer enter discount code PRESIDENTSDAY upon check-out. This promotion is valid from Friday 2/15/2013 and expires on Monday 2/18/2013 at midnight.
Find Kitchen Cabinet Kings at http://www.kitchencabinetkings.com. Additionally, Kitchen Cabinet Kings can be located on integrated marketing platforms including Facebook, Twitter, Google+, Houzz, and Pinterest.
About Kitchen Cabinet Kings:
Established in 2010, Kitchen Cabinet Kings is the industry's leading online supplier of both assembled and ready to assembly cabinets for your kitchen and bathroom, offering discount cabinet pricing and the highest quality stock cabinets on the market. Kitchen Cabinet Kings ships their cabinetry nationwide in just 7-14 days and was designed to benefit both homeowners in need inexpensive cabinets, and commercial buyers in need of wholesale cabinets.