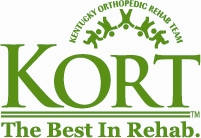 What we know for sure is wearing a brace, like a figure-8 lace-up brace, or getting your ankle taped is by far better than nothing as far as prophylactic bracing."
Lexington, Kentucky (PRWEB) May 24, 2013
Being an athlete carries with it the risk that an injury is one play away.
And for years, athletes, doctors and trainers have been coming up with new methods to help prevent injuries form occurring in the first place.
Prophylactic bracing is one of many things experts have come up with to help the athlete stay in the game, but do they work?
"Injuries are a part of all sports," said Dr. Stephen Karam, PT, DPT with KORT Physical Therapy in the Chevy Chase area of Lexington. "We want to look at ways to keep (athletes) safely on the field, and bracing and taping has always been an option."
And while fans will see many players sporting braces for the knee and ankles, there are mixed results when it comes to the research, Karam said.
"The purpose of those braces are to prevent ACL, MCL, LCL and even meniscus injuries," he said. "The most current research that we have out shows that we don't really have anything definitive that shows it limits those injuries from occurring. There are mixed results from the research, and in fact, there's even a couple online articles that shows there are more injuries to the extremity, possibly the foot, ankle or leg in some of the people that wear those braces."
According to a fact sheet from KORT, in a 2010 issue of the Journal of Sports Health, Salata et al conducted a review of six articles that studied the use of knee braces in football and injury prevention.
The review suggested that there may be limited protection of the medial collateral ligament and there was no evidence that wearing the knee braces prevented anterior cruciate ligament or meniscus injuries.
"Other articles will say that these braces may prevent some of the MCL injuries, and that would be to the mechanism of the force — which way the force is coming from, and it may help to prevent that kind of injury from occurring," Karam said. "We can confidently say that it does not necessarily prevent ACL injuries from occurring to the rotary force that occurs from the ACL injury."
Karam said a high percentage of injuries to the ACL usually result from an internal rotation of the tibia bone, and not the result of a contact injury.
There are other prophylactic bracing devices that may help an athlete, Karam said.
Ankle braces are popular for high-school and college basketball players, he said.
"The great debate is to wear a brace or not wear a brace, or to even have your ankle taped," Karam said. "What we know for sure is wearing a brace, like a figure-8 lace-up brace, or getting your ankle taped is by far better than nothing as far as prophylactic bracing."
Karam said studies show that taping up an ankle usually is effective for about 30 minutes.
"It kind of loosens up in the shoe or on the foot, so part of its protective property may change a little by halftime," Karam said. "I personally look at lace-up braces as the best mechanism of preventing an ankle-sprain injury, and it does do a pretty good job of that versus nothing at all."
With the mixed bag when it comes to the many studies, Karam said one thing is clear when it comes to the use of bracing and taping.
"For the most part, we know it doesn't hurt the knee," he said. "There's only been one article that says it may cause other injuries, but we know that's not fairly consistent, so the cost of what we know is the value of the player being on the field is; the budgets are so high that they can absorb the cost."
Kentucky Orthopedic Rehab Team (KORT) has been specializing in outpatient physical and occupational therapy in Kentucky and Southern Indiana for over 25 years. Local ownership and independent operations, allow KORT clinicians to work one-on-one with patients to regain strength, increase flexibility, improve mobility, and reduce pain without drugs or surgery. Selected as a "Best Places to Work in Kentucky" for nine consecutive years, and with over 40 locations, KORT has the most board certified Orthopedic Specialists and Vestibular Rehabilitation specialists than any other provider in the region. KORT's certified athletic trainers provide sports medicine services to more than 30 high schools and colleges in Kentucky & Southern Indiana.
###