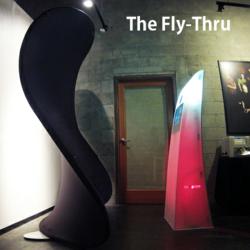 "The Fly Thru Photo Booth is now available for rent in LA and sale throughout the US."

- The Snapden Team
Los Angeles, CA (PRWEB) February 27, 2013
Surrounded by a crowd of people, props and laughter, Snapden's new Fly Thru photo booth made a successful appearance at its first LA photo booth rental. Snapden is excited to introduce a new addition to the company's versatile line of photo booths. Created with the innovative style the company is known for, the Fly Thru is Snapden's modern take on an open air photo booth. This booth allows high volumes of people to "Fly Thru," maximizing smiles and keeping guest happy.
The event organizer from Women Empowered gave the new photo booth an outstanding review. "Our guests loved the new Fly-Thru photo booth and props!" The host said, "Thank you for making our event so incredibly fun and memorable!"
The Fly Thru is an open-air photo booth that offers a professional backdrop with clean, modern style. Although the Fly Thru was released in black, Snapden is working on a number of new color options that will be available soon. The Fly Thru's size and portability makes it a great option for venues tight on space, or for event hosts looking to move high volumes of guests in short periods of time.
Just like the other booths in their LA photo booth rental product line, The Fly Thru works seamlessly with Snapden's high-tech, social media integrated, color changing Module. The Module is an automated photo kiosk that stands at the center of every Snapden photo booth. The Snapden photo booth system is unique to the industry – allowing a single photo kiosk to interact seamlessly with a line of different "shell environments," the walls of the photo booths. Currently Snapden offers three shell environments – the Convertible, the Step & Repeat and now – the Fly Thru.
Snapden is a LA photo booth rental company with operations based in Los Angeles, CA. Snapden also has a Photo Booth Sale Division based in Los Angeles. The Fly Thru photo booth is available for event rentals in LA and the South Bay area, and can be purchased as part of the many photo booth packages sold by Snapden. Any interested parties can contact the company for more information at imagine(at)snapdenphotobooths(dot)com or at 855-762-7336.
Snapden Photo Booths is dedicated to giving you a fun-filled experience you'll remember long after the night is over. Snapden photo booths are built by passion, designed for perfection and guaranteed to exceed your expectations.
About Snapden Photo Booths
http://www.snapdenphotobooths.com
imagine(at)snapdenphotobooths(dot)com
855-762-7336