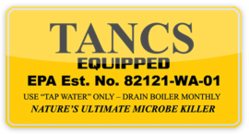 The yellow label tells you in a glance that your Ladybug qualifies as a disinfection device for the EPA.
Vernon Hills, Illinois (PRWEB) February 15, 2013
Last month, the Ladybug Tekno 2350 vapor steam cleaner remained the most popular steam vapor system purchased at LadybugSteamCleaners.com, the nationwide marketer of environmentally friendly cleaning devices announced today.
"We just ran the numbers for January, and it wasn't close," says V. K. Dunlop of LadybugSteamCleaners.com. "That our highest priced steam vapor system remains our best-selling steam vapor system doesn't shock or stun me. It's an amazing device with a performance level too stunning to go unnoticed."
According to Dunlop, most buyers want TANCS®, and it appears that adding $250 to the price of a Ladybug XL2300 for the option, which is standard with the Tekno, kept the Tekno in the top position.
Thermo Accelerated Nano Crystal Sanitation, or TANCS®, is proprietary to Ladybug steam cleaners and provides users with the ability to disinfect a surface at a level supported by the U.S. Environmental Protection Agency (EPA).
"While bleach has been trusted for years as the perfect disinfectant, bleach leaves as many live bacteria cells as dead cells," says Dunlop. "But scientific testing has found that steam cleaners equipped with TANCS® kill the cells that are unreachable by bleach."
Vapor steam cleaners like the Tekno 2350, which ships standard with TANCS®, proudly display a label that says "EPA Est. No. 82121-WA-01" in bold letters.
"The yellow label tells you in a glance that your Ladybug qualifies as a disinfection device for the EPA," says Dunlop.
Located in Vernon Hills, Illinois, LadybugSteamCleaners.com is moving fast to educate consumers and businesses that finally, there's a feasible, environmentally friendly alternative to chemicals. For more information, call 1-877-840-2977. LadybugSteamCleaners.com is a proud member of the Safer Chemicals, Healthy Families coalition, a nationwide effort to protect families from toxic chemicals. To stay safe and avoid toxic chemicals, keep abreast of the latest news with LadybugSteamCleaners.com's Twitter account, @LadybugSteam.