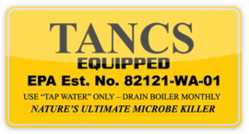 The yellow sticker tells you in a glance that your Ladybug qualifies as a disinfection device for the EPA.
Vernon Hills, Illinois (PRWEB) April 26, 2013
LadybugSteamCleaners.com, an authorized Internet dealer that sells Ladybug vapor steam cleaners online to consumers and businesses within all 50 United States, and to walk-in customers who visit their Chicago-area showroom, today announced international shipping with charges applied at checkout. Customers across the globe can now shop and buy Ladybug steam cleaners from LadybugSteamCleaners.com.
"Regardless of where our customers reside, we know they are concerned about the hundreds of cancer-causing chemicals passing through our bodies," says V. K Dunlop of LadybugSteamCleaners.com. "With leading-edge technology, Ladybug steam vapor systems clean faster and flat-out better than most chemicals. Now our customers can purchase a Ladybug online and ship it directly to their doorstep no matter where they live."
LadybugSteamCleaners.com markets four Ladybug steam vapor systems. When equipped with Ladybug's proprietary patented Thermo Accelerated Nano Crystal Sanitation technology (called TANCS®), these systems qualify as disinfection devices for the U.S. Environmental Protection Agency (EPA).
"Many traditional disinfectants are highly toxic and contain potentially cancer-causing chemicals that threaten human health," says Dunlop. "The simplified water-only protocol of a steam vapor system like the popular Ladybug XL2300 steam cleaner disinfects and deodorizes almost any surface without chemicals."
When you unpack a Ladybug steam vapor system equipped with the optional TANCS® technology you immediately notice the yellow sticker on one side that says "EPA Est. No. 82121-WA-01" in bold letters.
"The yellow sticker tells you in a glance that your Ladybug qualifies as a disinfection device for the EPA," says Dunlop.
For orders shipped within the U.S. and Canada, and to APO/FPO addresses, LadybugSteamCleaners.com offers complimentary shipping for orders of $49 or more.
Located in Vernon Hills, Illinois, LadybugSteamCleaners.com is moving fast to educate consumers and businesses that finally, there's a feasible, environmentally friendly alternative to chemicals. For more information, call 1-877-840-2977. LadybugSteamCleaners.com is a proud member of the Safer Chemicals, Healthy Families coalition, a nationwide effort to protect families from toxic chemicals. To stay safe and avoid toxic chemicals, keep abreast of the latest news with LadybugSteamCleaners.com's Twitter account, @LadybugSteam.