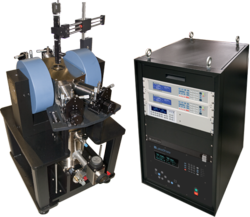 Columbus, OH (PRWEB) May 28, 2013
Lake Shore Cryotronics, Inc. will attend the IEEE MTT International Microwave Symposium (IMS) in Seattle, Washington, June 2-7, where it will showcase its family of cryogenic and cryogen-free probe stations for characterizing the performance of early stage devices and materials. IMS is an international gathering of technologists involved in all aspects of microwave theory and practice, particularly those in RF, microwave, millimeter wave, and terahertz (THz) frequencies.
Lake Shore will also present its other materials testing systems, including its recently announced THz materials characterization system. The THz system enables researchers to explore phenomena in emerging electronic and magnetic materials over a range of temperature and fields using non-contact THz frequency energy. Alpha units of the system are currently in testing at several key research facilities in the U.S., and early findings support the growing interest from scientists in applying THz to gain valuable insights into these types of materials.
Lake Shore launched its terahertz system for materials characterization in March 2013.
Attendees can meet with Lake Shore product experts at booth 1603 or visit http://www.lakeshore.com to learn more.
About Lake Shore Cryotronics, Inc.
Supporting advanced research since 1968, Lake Shore (http://www.lakeshore.com) is a leading innovator in measurement and control solutions for materials characterization under extreme temperature and magnetic field conditions. High-performance product solutions from Lake Shore include cryogenic temperature sensors and instrumentation, magnetic test and measurement systems, probe stations, and precision materials characterizations systems that explore the electronic and magnetic properties of next-generation materials. Lake Shore serves an international base of research customers at leading university, government, aerospace, and commercial research institutions and is supported by a global network of sales and service facilities.