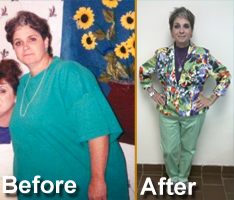 In 2006 he was voted best Bariatric Surgeon so that sold me and once I met him, I never would have gone to anyone else," Ima stated.
San Antonio, TX (PRWEB) April 02, 2013
Dr. Nilesh A. Patel of Texas Bariatric Specialists is pleased to announce that the Gastric Bypass surgery performed on Ima Bruce of Eldorado, TX was so extraordinary that he has received numerous patient referrals from her town wanting the same successful results. Becoming an inspiration to her small town was never something that Ima Bruce expected to be, that is, until she began dropping sizes weekly following a successful Gastric Bypass Procedure in 2008. Since then, Ima has helped people in her town on their own weight-loss journey.
As a child, Ima and her sister were always chubby little girls but she slimmed down when she was an active teenager. After her marriage and childbirth, her weight began to increase. She weighed 200 lbs when she had her son and eventually went up to 240 lbs. In between, Ima tried to bring down her weight with crash diets, but the forty-five pounds she lost never stayed off long before coming back with a vengeance. That was when Ima began to research different weight –loss options, particularly after a friend of hers had a lap band procedure and lost a lot of weight.
Before diving into Lap Band research, Ima contacted her insurance carrier to ask how much this type of procedure would cost and if it would be covered. Once she found out that she would be covered, Ima began searching for the perfect Bariatric Surgeon. She searched Lap Band online and looked at multiple Surgeons, but chose Dr. Nilesh Patel quickly. "In 2006 he was voted best Bariatric Surgeon so that sold me and once I met him, I never would have gone to anyone else," Ima stated. "Dr. Patel even sees my friend who had health problems with a weight-loss procedure from another surgeon and she is a big fan of Dr. Patel, too."
When Ima saw Dr. Patel, she felt reassured when he explained that the Lap Band wasn't the best fit for her. Dr. Patel recommended that Ima have a Gastric Bypass Procedure. She trusted his advice and experience and once she completed the pre-operative requirements from Dr. Patel, Ima found her insurance approved her for the Gastric Bypass Procedure. "I am almost doing cart-wheels in my office – You cannot believe how happy you made me!" Ima recalls telling her Insurance Advocate upon hearing of her approval.
After the Gastric Bypass Procedure, Ima lost weight quickly. "When people asked if I had problems following the surgery, I told them I haven't had one problem!" She read the material Dr. Patel gave her prior to her surgery multiple times and told them, "if you follow Dr. Patel's instructions then you won't have any problems," she assured everyone. Ima also noticed that people were doing double-takes of her at the grocery store. "I was changing sizes weekly!"
Her huge weight-loss success made her an inspiration in her town and she gladly answers any questions her friends asked her regarding her procedure. "Dr. Patel has performed five weight-loss procedures on patients from my town. I feel I'm responsible for that so it keeps me on track with keeping my weight off," said Ima.
In one year, Ima lost a total of 97 lbs. "I know between God, Tuna, and Dr. Patel - that was it!" She also keeps the card her son and daughter-in-law gave her after her surgery. "I still have that card five years later" she recalls, "It says, 'To a New Beginning.'"
About Texas Bariatric Specialists
Founded by Dr. Nilesh A. Patel, MD, a nationally recognized and fellowship-trained bariatric surgeon, Texas Bariatric Specialists (TBS) is a holistic weight loss practice focused on delivering long-term weight loss solutions for patients. Dr. Patel specializes in surgical weight loss procedures including Lap Band, Gastric Bypass, Gastric Sleeve, Gastric Band, and the revision of failed weight loss surgery, which have resulted in over 2,500 surgeries exceeding the national average of successful weight loss management. With a commitment to surgical expertise, compassionate care and exemplary preoperative and postsurgical consultative services, Dr. Patel and his staff at Texas Bariatric Specialists ensure successful weight loss management for their patients through long-term relationships to support good health. Offices are located across major cities throughout Texas including San Antonio, Austin, Corpus Christi, New Braunfels, Seguin, Boerne, Kileen, Temple, Del Rio and Laredo. For more information, or to book a free informational seminar, please visit http://www.texasbariatricspecialists.com.