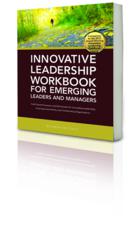 This workbook will help shape you into an excellent leader.
Columbus, Ohio (PRWEB) February 26, 2013
A natural fit with Metcalf's practices to innovate leadership,LeaderShape's philosophy is centered around "the possibility of the future" and its responsibility, as an organization, to help create that future. Its simple, yet profound, premise is to help leaders develop and shape the kind of world we want to live in. LeaderShape's vision is: A just, caring, and thriving world where all lead with integrityTM and a healthy disregard for the impossible. Their mission is: To transform the world by increasing the number of people who lead with integrityTM and a healthy disregard for the impossible.
"Leadership needs innovation the way innovation demands leadership. By combining them, you improve your capacity to deliver results and your organization's capacity to affect change," says Metcalf.
The Innovative Leadership Workbook for Emerging Leaders and Managers, designed specifically for busy people, includes field-tested processes and worksheets for innovating how you lead, transforming your organization, and creating sustainability.
It provides a six-step process for developing innovative leadership qualities through a combination of well-researched theory, two practical business case studies, and corresponding tools and templates. One of the case studies is that of Jonathan Naber, the founder and field director in Latin America at Illini Prosthetic Technologies (IPT) and a LeaderShape graduate from the University of Illinois.
"This workbook helps you ask key questions of yourself as you advance into leadership roles. Be patient as you grow. Take notes and be grateful for both good and mediocre leaders. The good ones model the way. The bad ones remind us what not to do. This workbook will help shape you into an excellent leader.'" -- Carla Paonessa, Chair, LeaderShape Board of Directors and Retired Managing Partner, Accenture.
Metcalf & Associates, Inc., is a leadership development and management consulting firm that uses an integrative approach to help leaders and their organizations innovate how they lead and how they operate, helping them to thrive in a rapidly changing environment. CEO Maureen Metcalf is an acclaimed thought leader who has developed, tested, and implemented emerging models that dramatically improve leaders and contribute toward organizational success. Go to http://www.innovativeleadershipfieldbook.com to find out more about Metcalf & Associates and for information about all the workbooks in the series.