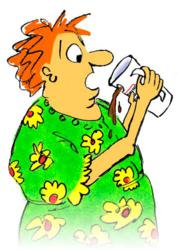 Damned infernal gizmo. My kingdom for a left-handed can opener.

Mr. Burns, The Simpsons
San Francisco, CA (PRWEB) May 02, 2011
For the 2nd year in a row, leftyslefthanded.com is holding a short video contest to celebrate International Left-Handers' Day, August 13. This year's contest seeks the Most Hilarious 60 sec. video featuring one of Lefty's gag products - either the Left-Handed Dribble Mug or the Lefty Bicycle Playing Cards. Last year's contest was great fun, and the winners can be seen on leftyslefthanded.com's YouTube channel and website.
The Left-Handed Dribble Mug works only for left-handers. Though it appears like a mug a right-hander could use, a tiny hole ... (tune in August 14 for the full story, or visit the website).
The Lefty playing cards are both a left-handed deck and a magic deck. When the cards are fanned with the right-most cards on top (as a right-hander does), the card numbers are not visible. But with a left-handed fan, they work perfectly well. The standard Bicycle design means these cards can be mixed into right-handed decks to confound right-handed users. The deck comes with instructions for magic tricks as well.
Lefties DO have more fun. Though they make up only 10-15% of the populations, the percentage of lefties among first rank comedians and humorists are far higher, including such All-Stars as Carol Burnett, Charlie Chaplin, Whoopi Goldberg, George Burns, Drew Carey, Tina Fey, W. C. Fields, Lenny Bruce, Dan Akroyd, and Richard Pryor.
Being a lefty in a right-handed world is either a comedy or a tragedy, depending on your personality. Those who survive and thrive approach it with humor.
The winning videos will be play at Lefty's San Francisco on August 13, International Left-Handers' Day (and through the rest of the month), featured on the front page of leftyslefthanded.com, along with the YouTube channel and Facebook page. The 1st prize is $500, 2nd prize is $250, and two Honorable Mention awards are $100.
Videos are due August 1, 2011. Post to YouTube and send the link to lefty(at)leftyslefthanded(dot)com. See the contest ad, http://www.leftyspromo.com/, for instructions about submittal and info about obtaining products to use in the video.
Lefty's has retail stores at Pier 39, San Francisco, and at Downtown Disney, Walt Disney World Resorts in Orlando, FL. Lefty's stores and website have far and away the world's biggest and most fun selection of gifts and tools designed especially for left-handers.
# # #